Jaffna, the roads travelled on and untravelled
View(s):

Pradeep Thalawatta's solo exhibition, "A Different Road" opened last Friday at the Lionel Wendt Gallery, Colombo 7. His exhibition is presented by Hempel Galleries.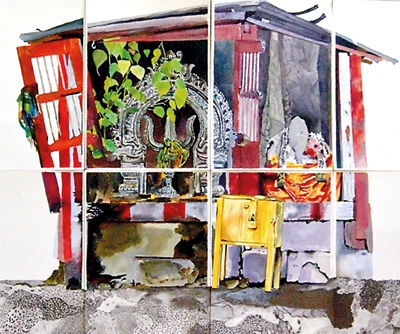 Featuring new works, this exhibition is his impressions of living in Jaffna. The paintings flow seamlessly from his previous works, in a powerful narrative that leaves one with that burning curiosity of 'what next?'.
In a press statement issued by Hempel Galleries, founder Annoushka Hampel says, "When I first met Thalawatta in 2004, his artistic investigations incorporated highly urban situations: Industrial materials, mass-production, pop/celebrity icons and personal episodes of his life. He was dealing with absorption with urban allure, commenting on consumer anxieties and feelings of isolation and loneliness in the big city.
"The idea of changing landscapes has very much been carried through into this exciting new body of work 'A Different Road' which as insinuated, features the road as that which runs through and features in each work. Road, sea and sky. Sky, new road and old road. Road that erases that which once was. Road that breaks up history. The Game of the Road. The Road that leads to….? are all addressed.
The exhibition ends today.
Follow @timesonlinelk
comments powered by

Disqus