From baby blog to first novel
In this e-mail interview Anne Abayasekara speaks to Sanji Wijenaike on how she got into self-publishing on Amazon's Kindle books
View(s):
Today's modern technology brings people together in a way that was undreamt of in my youth. Folk who have never met each other in person build up friendships – which sometimes blossom into romance – through constant communication by e-mail and other electronic devices.
So it was that a mutual Sri Lankan friend who happens to live in Luxembourg, introduced Sanji in Vancouver to me, here in Sri Lanka, on e-mail. He said she was the only Sri Lankan to self-publish on Amazon's Kindle books.
Sensing a story, I got in touch with Sanji Wijenaike Silva by e-mail. Her warm and friendly response made me feel I had made a friend, despite the generation gap between us.
When she was expecting her first (and so far only) child, Milena, now five years old and a "bundle of joy" to her parents, Sanji began to write "Blogs from my Belly: Pregnancy from baby's point of view". It seemed to her a simpler and quicker way of keeping her friends updated on the progress of mother and child, than writing mass e-mails. What makes "Blogs from the Belly" unique is that Baby's progress is narrated in the first person – it's the foetus speaking in the voice of a witty, as-yet unborn baby from inside her mother's womb!
When they moved to moved to Canada two years ago, Sanji heard about self-publishing on Amazon and she was inspired to have a go at it. "So I just pulled out my novella, `Blogs from the Belly', unedited as it was, and put it up. I had to whip up a cover in literally five minutes and then it was up and took on a life of its own."
The feedback and sales (purely by word of mouth), were so encouraging that Sanji felt it had paved the way for her second book which is all about her experiences as a new immigrant in Canada, entertainingly related. This book has just come out and has the intriguing title of "Canadoodling – Nutty Relatives and Crazy Conundrums".
Sanji explained to me that the title is a combination of the words Canada and doodling – "My little doodles of life in Canada." She e-mailed the cover to me and I am very impressed to find that she can draw as well as she writes and she projects her sense of humour both into her words and her sketches.
A summary of the book informs us that we will meet "larger-than-life characters like her meticulous, poker-faced husband, her adorably quirky daughter, and her nutty sister."
Sanji has led an interesting life. When she was three years old, her family moved to Thailand where they remained until Sanji graduated from High School there. The reason, she explained to me, was that her father was asked to set up an inter-governmental re-insurance company in Bangkok.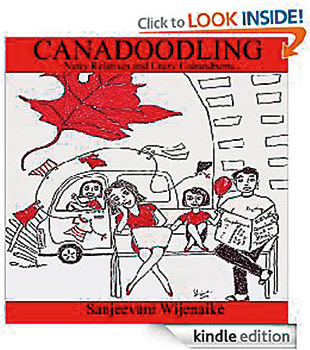 "When Sanji was in Grade 10, she made a happy discovery about herself. She joined the Newspaper & Year Book Clubs and discovered her love of writing. "We had great teachers," she says. "One in particular, T. Bradshaw, always told me that I had a knack for writing and that I should foster it. We remain friends to this day and I give him the most credit for putting me on this journey."
Sanji majored in International Relations at Washington College, Maryland, USA with the Foreign Service in mind, but when she graduated at age 21 she found that she had to be at least 23 to sit for the foreign service examination. So she went straight on to graduate school and was awarded her Master's degree in International Communication at the American University of Washington. After graduation, Sanji was employed by the University as a Program Assistant.
In 2002, she decided to come back to Sri Lanka to be with her parents and she worked in an insurance brokering company of which her father was the CEO. She met her husband, Prabha Silva at "an apparently engineered lunch held by close family friends and he pursued her with e-mails and 'phone calls and eventually won her heart. She returned to Sri Lanka and they were married in 2003. Their "bundle of joy" , Milena, arrived on the scene in 2007.
After Milena's birth, Sanji worked part-time until early 2009 and then undertook work for a U.K. based insurance broker in the form of contract work which gave her flexibility and the freedom to stay at home with her baby. She gave up working altogether when they moved to Canada .
"Self-publishing" on Kindle is absolutely free. "It's not a complicated process – just a matter of uploading your work and giving it a cover. Publishing a book in paperback form, is a little more complicated. It can be costly if you request help in editing, design and marketing, but if you tackle everything yourself, it's free," she explains.
"Blogs from the Belly" can be read only Online and on the Kindle, but this second foray Sanji has made into the field of self-publishing will be online on Kindle and also available as a paperback. The latter may be ordered online from Amazon.com.
Sanji says she'd like readers to know that they don't need a Kindle device to receive and read books from Amazon.com. On the web, there is a free application anyone can download for the computer, iphone, iPad, etc., and so enjoy the book for free.
Knowing how deeply attached she is to her Sri Lankan roots, I asked Sanji how she identifies herself – whether as Sri Lankan, or Canadian, or a Citizen of The World? She replied, "I would say I love the land of my birth, but I think of myself as a World Citizen. I consider parts of Thailand, the USA, Sri Lanka and Canada my home. Then I realised that home really is where the heart is."
Follow @timesonlinelk
comments powered by

Disqus