Navy divers to salvage 'Eelam War' aircraft wreckage
By Leon Berenger
View(s):
Some 25 Navy divers will be deployed to salvage the wreck of the ill-fated Lion Air aircraft which was shot down by the LTTE over the coast of Kilinochchi District in September 1998.
"The salvage operation will be carried out no sooner the weather clears, since the prevailing rains and strong winds have led to choppy seas and hostile waves in the location where the wreckage lies," Navy Spokesman Commander Kosala Warnakulasooriya told the Sunday Times.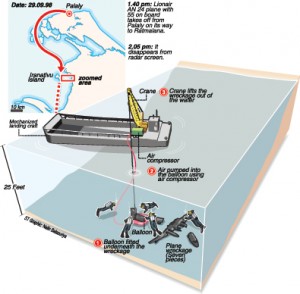 He added that Navy divers sent down to the wreck earlier, reported zero sighting of any human remains, except that the aircraft had broken into seven different parts on impact with the water and was presently resting on the seabed, about 25 feet below the surface.
"Several large air-filled balloons secured to the wreckage, will gradually lift the pieces of the plane to the surface, with the help of a Navy landing craft," he said.
"On reaching the surface, the wreckage will be hauled on to the deck of the landing craft, with the help of a crane," Commander Warnakulasooriya said.Current efforts to salvage the plane, follows a request by the Terrorist Investigation Department (TID) which claims to have arrested the LTTE cadre who allegedly brought down the plane with a shoulder-fired missile.
According to investigators, the wreckage is needed as material evidence to indict the LTTE suspect in courts.
At least 55 civilian passengers and crew perished when the aircraft was shot down shortly after take-off from the northern military base of Palaly.
Several body parts of the victims which got entangled in nets and brought ashore by local fishermen, were later buried in unmarked graves along the shores of Mannar, on the directions of the Catholic clergy in the area.
The Catholic Church moved in to help, following a request by the airline operators, as Government forces had no access to the area which was under LTTE control at that time.
All but one aboard the ill-fated aircraft were males, while the solitary female passenger was the daughter of a serving senior police official.
Follow @timesonlinelk
comments powered by

Disqus