Land near Kantale tank to be auctioned for gem mining
By Sonja Candappa
View(s):
In the wake of the latest gem rush in Kantale, the National Gem and Jewellery Authority is discussing with the Irrigation Department, the possibility of auctioning the land near the bund of the tank, for gem mining, Authority Director General Nimal Bandara said.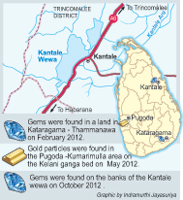 "The lands along the tank bund belong to the Irrigation Department, and as both the Department and Authority come under the purview of the Ministry of Environment and Natural Resources, the necessary procedures could be handled swiftly," he said.
Blue Sapphires and Topaz worth up to Rs. one million, were found along the bund of the Kantale tank, according to Gem and Jewellery Authority officials sent to investigate the illicit mining scene.
The gem hunting frenzy began when several precious stones had surfaced on some areas of the bund of the Kantale tank following heavy rains. At first, only about 10 people were seen digging for gems, but, by last Wednesday, more than a 1,000 people were seen joining the hunt.
The Army was deployed to control the ongoing activity, as the Police were unable to cope with the situation.
Mr. Bandara said if the lands near the Kantale tank containing gem deposits are auctioned, 5% of the land will be given to families living in the vicinity of the tank, for mining under the Samurdhi Scheme. "After all, they are also Sri Lankans, and every Sri Lankan has the right to benefit from our country's natural resources," added Mr. Bandara.
However, even if licences are allocated for the mining of gems near the tank, these licences will only be for one year. This will be to ensure that the natural resource will not be over exploited and mining conducted in a manner that is environment-friendly.
Earlier this year, gem deposits were found in the Thammanawewa-Kataragama area and three-and-a-quarter acres of Forest Department land were sold for one-year licences.
As there were allegations by villagers that the authorities had not distributed any of the land among them, this time, the land allocated for the people under the Samurdhi Scheme, will be distributed to families chosen by the Grama Niladhari of the area, he said.
The Authority is also taking measures to sponsor two of these families to participate in international gem and jewellery exhibitions.
The Authority is already engaged in helping low income jewellery makers in the Galle and Kandy districts, to ensure that traditional styles and designs do not die out. This month alone, Rs. 1,000,000 worth of equipment was given to low income jewellery makers from these two districts.
Follow @timesonlinelk
comments powered by

Disqus