200,000 hit hard by tropical cyclone Nilam
Nadia Fazlulhaq and Aanya Wipulasena report
From Jaffna to Hambantota, the country is reeling from blows inflicted by torrential rains and gale-force winds.

View(s):
While hurricane Sandy was wreaking havoc on the East Coast of the US, tropical cyclone Nilam was hitting Sri Lanka hard with torrential rains and gale-force winds, claiming lives and destroying property. Eight people were killed and more than 200,000 persons affected islandwide.
Deaths by drowning, lightning, electrocution, falling trees and earthslips were reported from Jaffna, Nuwara Eliya, Kandy, Kegalle, Kalutara and Matara, said Disaster Management Centre (DMC) spokesman Sarath Lal Kumara.
Some 15,000 displaced persons are being accommodated in 99 evacuation centres spread over Jaffna, Mullaitivu, Nuwara Eliya, Gampaha, Colombo and Kalutara.
Disaster Management Minister Mahinda Amaraweera told the media on Thursday that the Ministry was "doing everything possible" to provide relief for those affected by the extreme weather conditions. He said Rs. 200 million has been set aside for emergency relief, and displaced persons are being provided with food, dry rations, drinking water and other essential items.
The tropical cyclone, which originated near the country's northern coast, spread to the South Indian states of Tamil Nadu and Andhra Pradesh and the Jaffna, Mullaitivu and Mannar districts.
The Meteorology Department has told fishing communities and the Sri Lanka Navy to expect strong winds and rough seas off the coast of Mannar, Jaffna, Trincomalee and Batticaloa.
In Mullaitivu district, heavy rains and strong winds have affected 23,638 people in four Divisional Secretariats – Maritimepattu, Puthukkudiyiruppu, Oddusuddan, Manthai East and Tunukkai.
In Kilinochchi district, 4,446 persons in the Pachchilaipalli, Kandavalai, Poonakary and Karachchi DS divisions have been affected, and 654 houses have been damaged.
In Jaffna district, 17, 968 persons have been affected by floods in 14 divisional secretariat areas, including Kayts, Point Pedro and Uduvil. More than 1,700 people are being accommodated in temporary shelters. In Vavuniya, 610 houses have been damaged.
FLOODS
Gampaha was the worst affected by floods. More than 49,900 persons have been displaced. Areas especially hard hit are Biyagama, Mirigama, Kelaniya, Mahara and Wattala. The Kelani Ganga overflowed its banks causing floods; more than 6,800 Gampaha residents are being housed in evacuation centres.
Floods were also experienced in Colombo district, affecting 21,813 persons in Kaduwela, Ratmalana, Sri Jayawardhanapura Kotte, Thimbirigasyaya, Homagama, Kesbewa, Kolonnawa and Seethawaka. Roads were impassable and many houses in Colombo city were damaged by falling trees and branches.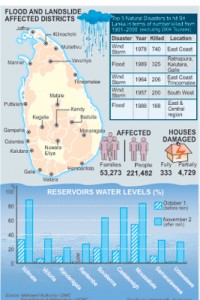 In Kalutara district, where one person drowned and another was killed by lightning, up to 5,000 persons have been affected by rain.
LANDSLIDES
In Nuwara Eliya, scene of landslides and falling rocks and trees, more than 800 people – residents of Ambagamuwa, Walapane, Haguranketa, Kotmale and Nuwara Eliya – were affected by bad weather.
Central Province Chief Minister Sarath Ekanayake declared Friday, November 2, a holiday for all schools in Nuwara Eliya.
Other districts affected by adverse weather conditions are Mannar, Kurunegala, Puttalam, Kegalle, Galle, Matara, Hambantota and Moneragala.
In Kandy district, landslides damaged 89 houses, most of them in Udunuwara and Harispattuwa.
Kandy District Secretary Gamini Seneviratne told the Sunday Times that a number of places have been identified as vulnerable to landslides. Residents have been warned and some advised to relocate until the weather improves. The areas are Hantana, Bahirawakanda, Hataraliyadda, Akurana, Primrose Gardens, Peradeniya town, Heeressagala, Galaha, Ampitiya and Anniewatte.
In Peradeniya town, owners of 29 shops have been told to move as their business are at risk from earthslips.
"Those living in mountainous terrain should follow proper waste water and rainwater disposal," said Professor Kapila Dahanayake of the Geology Department, University of Peradeniya. "Landslides are a result of over-absorption of water in hill areas."
Gothami Girls School in Kandy has been temporarily closed because of a landslide risk, and Kandy Mayor Mahendra Ratwatta has been advised to evacuate his official Wales Park residence because of a risk from boulders above his home. On Wednesday, access roads to the Dunhinda Falls in Badulla were closed because of a risk from loose boulders.
The National Building Research Organisation (NBRO) has issued landslide warnings to Matale, Kandy, Nuwara Eliya, Badulla, Ratnapura, Kalutara, Galle, Hambantota and Matara districts, said R. M. S. Bandara, NBRO head of Landslide Studies and Services Division.
Jaffna District Secretary Sundaram Arumainayagam told the Sunday Times that some 450 families have been displaced and were being provided with cooked food and other relief.
Gampaha District Secretary J. J. Rathnasiri said the most affected parts in Gampaha were Wattala, Biyagama and Kelaniya, and that up to 2,500 persons were in temporary shelters. Kalutara District Secretary U.D.C. Jayalal said 256 houses in Kalutara were damaged.
MORE RAIN
The cyclone is moving away from the island, but more rain can be expected. "An inter-tropical convergence zone [ITCZ] is prevailing over the country," said Professor S. Anthony, head of the Colombo University Geography Department. "ITCZs occur when there is a meeting of trade winds. It's like a band of clouds with showers. Torrential rains and strong winds are a result of the ITCZ, cyclone Nilam, and inter-monsoonal weather patterns."
November and December are characterised by cyclonic wind circulation."In recent months temperatures have come close to 40 Celsius in some areas. This is an indication of cyclonic conditions," Professor Norbert said. "The frequency and intensity of cyclones is increasing. There was Laila in 2010, Thane in 2011, and Nilam this year."
FALLEN TREES
Fallen trees blocked the railway track between Ohiya and Idalgashinna stations, and the road between Diyatalawa and Haputale. In Deniyaya, Matara district, a tree fell and damaged several buses. In Hanguranketa, a large tree fell on the public market and damaged the building.
In Colombo city, fallen trees blocked Havelock Road, Flower Road, Horton Place, Cambridge Terrace, Nawam Mawatha, Ananda Coomaraswamy Mawatha, and Sir Marcus Fernando Mawatha.
OUTBREAK OF DISEASES
Health officials say an outbreak of infectious and water-borne diseases is possibile in the coming days, when waters start to recede.
Mosquitoes tend to breed where rainwater collects, warned Dr. S. N. K. Batuwanthudawe, director of the National Dengue Control Unit, at the Health Ministry. "The public should be vigilant. After heavy tropical rains, where water stagnates there is usually a dengue outbreak."
Diarrhoea and other water-borne diseases are common when there are floods, said Dr. A. Balasooriya, head of the Faculty of Medicine, Kotelawala Defence Academy. "During floods, water and food are easily contaminated. Eating out can be risky, especially at places where good hygiene is lacking. Drink water that has been boiled or purified. Wash greens well in clean, purified water if you want to make raw salads," he said.
Outbreaks of rat fever, or leptospirosis, are also common after flooding, Dr. Balasooriya said.
"The disease is transmitted through the faeces and urine of infected animals, rats especially".
Snake bites are another common occurrence in times of flooding, "so be careful when you are travelling through flooded areas," the doctor said.
Rains boost hydro-power 
The good news about the heavy rains lashing the country is that hydro-power generation has increased to 51.9 per cent of the country's total power generation. The sluice gates at a number of reservoirs have had to be opened because of rising water levels following torrential rains.
During the long dry spell earlier this year, hydro-power accounted for only 18 per cent of total power generation, and at times even fell as low as 14.6 per cent, Power and Energy Ministry spokesman Dhanushka Ramanayake told the Sunday Times.
Pakistan gives name
Tropical cyclone Nilam was named by Pakistan. When it is Sri Lankas turn to name the next cyclone, it will be called Mahasen, while Phailin is the choice of Thailand, when it is that country's turn.
Mahasen was the choice of the Meteorology Department, its head S. H. Kariyawasam told the Sunday Times. Other names on the list included Mala, Bandu and Abey.
Drought relief 
The Government has allocated Rs.4,606.62 million for drought relief programmes in Anuradhapura, Polonnaruwa, Kurunegala and Puttalam Districts.
Rs. 3444.61 million for boosting water retention capacity through de-silting 972 reservoirs and tanks;
Rs. l,113.95 million to pay drought-affected farmers who contributed labour to develop agricultural roads and clean canals;
 Rs.48.06 million for reconstructing agro-wells and providing drinking water in drought-stricken areas.
Follow @timesonlinelk
comments powered by

Disqus