A jumbo task gets underway
By Harish Murali
As the human-elephant conflict continues to take its toll, the Wildlife Dept. says a project is underway
to build more secure electrified fences in areas identified as vulnerable
View(s):
N. Piyasena, a 57 year old, farmer from Galegama area at Medawachchiya, Anuradhapura, is the latest victim in the ever-intensifying human-elephant conflict.
Mr. Piyasena was attacked by an elephant on Tuesday night while he was heading to a funeral house. A father of two, he had left home around 11 p.m. saying he would be staying overnight at the funeral house.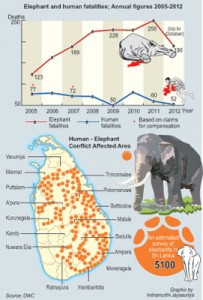 However, next morning the villagers found his lifeless body on the roadside along with a damaged cycle. There were signs of elephant tracks. Villagers say they heard loud screams but didn't venture out in fear of themselves being attacked by elephants.
According to Wildlife officials although steps have been taken to ease the problem by erecting electrified fences, these have proved ineffective as was witnessed in the national parks of Yala and Uda Walawe where the elephants had broken the fences last year.
However, Elephant Conservation Deputy Director W.S.K. Pathiratne said electric fences were now being put up with tall concrete pillars that would be difficult for the elephants to penetrate or break. The project set to be completed by next year, has identified vulnerable areas that would be fenced, he said.
Areas in about 15 districts including Kurunegala, Puttalam, Anuradhapura, Polannaruwa, Mullaitivu, Kilinochhi and Ampara and another 106 pradeshiya sabhas have been identified as vulnerable to elephant encroachment.
According to statistics from the Department of Wildlife Conservation (DWC) for this year, upto last month, there were 52 human and 190 elephant fatalities (see graphic).
Mr. Pathiratne said the deaths this year were mainly due to the recent drought, which saw elephants encroaching human habitation in search of food and water.
A study of statistics from 2005 to this year, showed an alarming increase in fatalities, with 542 human deaths and 1594 elephants reported dead. The human death toll in 2010 stood at 81.
Environmentalist and elephant expert Pubudu Weerarathna said the pachyderms attack only when they feel threatened.
According to an islandwide elephant census last year the count stood at 5100, he said, adding however, the country's terrain especially the vegetation hampered the accuracy of the census.
Meanwhile, another leading environmentalist Jagath Gunawardana said the animal-human conflict was common to other animals too, but the problem was more rampant in this case as elephants were found in most parts of the country.
He said the main reason for elephant deaths was that villagers used traditional methods such as mixing poison with other chemicals and used them on crops that were targeted by elephants.
Mr. Pathiratne added post war rehabilitation of people in areas such as Kilinochchi and Mullaitivu have also given fodder for elephant attacks. He said these were earlier elephant habitations.
In a move to curb the problem in these areas, The DWC has issued warnings to villagers living close to elephant habitations not to venture into forest areas or wander at nights, which could provoke elephant attacks.
Commenting on the translocation of these elephants into the national parks Mr. Pathiratne said this did not have the desired result as these elephants were more acclimatised to living in areas bordering villages and could even die in a forest environment.
The trapping of an elephant
An elephant with a limp, that had destroyed several houses in the Ampara district was trapped by Wildlife officials recently.
The officials accompanied by a veterinarian had waited three days for the jumbo to appear and eventually it was captured near the Kotavehera area. The sedated animal was transported in a large vehicle to be released in the Uda Walawe Park.
With additional reporting by Atula Bandara and Wasantha Chandrapala
Follow @timesonlinelk
comments powered by

Disqus