Commuters taken for a ride by the metre
By Charundi Panagoda
In the absence of regulations or a regulatory body to turn to, the powers that be pass the buck
View(s):
Metered three-wheelers are freely exploiting customers in innovative ways, in the absence of regulations to control them.
Fixing meters on three-wheelers hasn't prevented drivers from cheating customers in new found ways, from taking longer routes in truly parangiya-kotte-giya fashion, to outright tampering with the meters.
Many customer complaints include accusations of meter fixing to charge higher amounts."One time I got into a meter taxi three-wheeler, it started at the usual Rs. 50 then the meter started recording after 20 or 30 metres instead of at 1 km," a disgruntled customer told the Sunday Times.
"Some taxi drivers keep the meter on and start going, it's easy to pretend to switch it on, " he said.
Addressing accusations of meter fixing, Thushara Kariyawasam of Link Lanka, the local company that designs the majority of taxi meters in use, said their digital meters cannot be manipulated. Link Lanka uses a PIN number based system where a new PIN has to be generated each time someone wants access to change meter settings.
"The software in our digital meters is secure and drivers cannot hack into it," Mr. Kariyawasam said. "We also hold the patent rights for this software. With our unique system, no one can validate the PIN on their own, without our programming. We take such allegations seriously. Once I came on radio and even offered Rs. 10,000 to anyone who can hack our system. No one came forward," he said.
University of Colombo's School of Computing lecturer Prof. G.N. Wicremenayaka said it is technically possible to hack into such a system. Several confidential Sunday Times conversations with private three-wheeler drivers revealed exactly that. While the drivers themselves do not posses the technical knowledge to hack into the system, they can hire technicians who can.
Technicians of meter distributing companies set up taxi meters for drivers. One three-wheeler driver revealed that, as the technicians have all the access, taxi companies hire them to tamper with the meters.
One popular meter manipulation method is to fix the meter in such a way that a lesser distance can be recorded as 1 km. For example, meters can be 'fixed' so that 800 metres read as 1 km.
"If someone can decipher the PIN number, he may be able to calibrate how many rounds there are per kilometre," All Island Three-Wheeler Drivers' Union President Lalith Dharmasekera said.
"For example, if 1 km is 100 rounds, he might be able to calibrate 90 rounds as 1 km," he said.
Drivers can also manipulate meters manually, without technician assistance. Some drivers adjust the time settings of meters, so that, 5 p.m. reads as 5 a.m., thus taking advantage of the extra Rs. 15 rate increase between 10 p.m. and 5 a.m., for the whole day.
Three-wheelers have a 'sensor line' wire connected to the engine that reads the speed rate of the vehicle. Drivers can connect another wire to the sensor line from the headlight, so the combined electric spark from both the headlight and the engine, causes the meter to give a higher speed reading, which in turn gives a higher distance reading, and hence, a higher fare.
Mr. Kariyawasam insisted most problems occur because customers are still not aware that different three-wheelers charge different rates.
"For example, if one driver charges Rs. 40 and another Rs. 50, obviously, the fare is different for the same distance," he said. "Customers instantly complain that meters are fixed, instead of realising they were charged different rates," he said.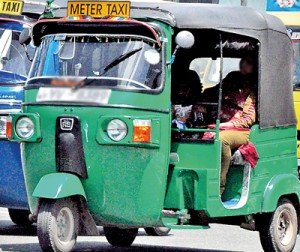 Generally, metered three-wheelers charge Rs. 50 for the first kilometre, and then the price from the second kilometre onwards varies between Rs. 30 and Rs. 50.
"A law should be enacted, so that the customer knows the charge, before he/she hires a metered three-wheeler," Mr. Dharmasekera said. "Sometimes, the customer may believe the per-kilometre rate is Rs. 32, but get charged at the rate of Rs. 40. Irregularities like that exist," he said.
Mr. Dharmasekera said lack of regulations have caused a lot of problems in the industry.
There isn't even a place to complain, unless taxi companies set up their own offices to process complaints.
Private Transport Minister C.B. Ratnayake said last Wednesday the Cabinet rejected a proposal to regulate meter taxis.
"The Cabinet maintained that the matter should be handled by the provincial councils (PCs)," the Minister told the Sunday Times. "For the most part, as there are more three-wheelers now, we wanted to bring in a fixed fare to improve the services," he said.
The Minister added that there won't be any newer proposals coming up soon. National Transport Commission (NTC) chairman Roshan Gunawardene previously told the Sunday Times he was 'hopeful' regulations for price control and displaying of rates will come into effect within two months. When contacted on the status of those regulations, Mr. Gunawardene while denying making such comments, said meter taxi issues are a matter for the PCs. Western Provincial Council Transport Secretary Bernard Wasantha said there are no meter taxi regulations yet.
"We've had a charter about 10 years ago, but it wasn't implemented," he said. "Right now, we are considering suggestions by three-wheeler unions and associations, and drafting the laws," he added.Mr. Dharmasekera said at least the Consumer Affairs Authority (CAA) should regulate the erratic meter fares. "Now the CAA has a procedure to regulate scale tampering in retail stores by issuing licences and such. But no such regulatory system exists for three-wheeler meters. We have been saying this for a long time; please properly regulate them, otherwise it's a problem to the average person who depends on these services," he said.
CAA Chairman Rumy Marzook was not available for comment. A CAA official said the Authority is only involved in regulating prices for retail items and not services. "For the 34 years since we've been using three-wheelers the Government has failed to take regulatory responsibility.
Minister Ratnayake told us in a letter, that the laws will come into effect in two months. The Western Provincial Council authorities informed us last week the process is being speedily implemented. Everyone says there will be an 'immediate' solution and they've been saying that since the nineties." Mr. Dharmasekera said.
Follow @timesonlinelk
comments powered by

Disqus