Teacher unions give Govt. two weeks to act or face boycott
By Chamal Weerakkody
View(s):
Teacher trade unions have given the Government a two-week ultimatum to settle six of their demands, including the salary issue. If the Government failed to resolve matters, the unions say they will instruct teacher members to boycott classes.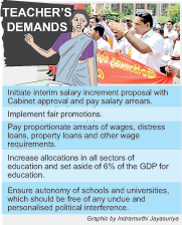 The unions' main demands are an interim salary increment; payment of salary arrears; a fair system for giving promotions, and establishing distress loans and property loans. The unions also insist that the Government set aside 6 per cent of the gross domestic product for education, and ensure that education is not politicized or privatised.
The trade unions held a rally and marched from the Rajagiriya junction to the Ministry of Education to hand over a letter to the Minister of Education, Bandula Gunawardena. The Secretary to the Ministry, Gotabaya Jayaratna, received the letter on the Minister's behalf.
The Education Minister told the Sunday Times that he rejected all union allegations against him, and insisted that the Ministry was taking initiatives to raise education standards in the country.
"The Janatha Vimukthi Peramuna [JVP] is trying to cause trouble between the public and the Ministry," Minister Gunawardena said. "The Government does not see these protests as either an issue or a threat." He said schools operated as usual on October 24, the day of the union action, and that the government had allocated funds for education. It rejected the proposal for an interim salary increase.
Ceylon Teachers Union Secretary Joseph Stalin told the Sunday Times that teachers and principals at 9,662 national schools would go on "sick leave" if the Education Ministry failed to deliver before the two-week deadline.
On October 12, the teacher unions petitioned the Education Ministry Secretary Mr. Jayaratne to study the six demands and resolve matters quickly. In the meantime, the unions met Deputy Minister for Education Wijith Wijithamuni Zoysa on October 18 and the Secretary to the Education Ministry on October 22.
The interim salary increment will give a Grade 1 teacher an extra Rs 3,870, raising the salary to Rs 25,515 a month; a Grade 1 principal will receive an increment of Rs 5,805, and the total salary will go up to Rs 28,095.
Dr. Nirmal Ranjith Dewasiri, president of the Federation of University Teachers Association, said the allocation of 6 per cent to education from the gross domestic product for education would help standardise education.
Follow @timesonlinelk
comments powered by

Disqus