Talk at the Cafe Spectator
View(s):

CBK goes on A-9 highway to Jaffna

The days she reigned supreme, President Chandrika Bandaranaike Kumaratunga hopped from one town to another in Air Force helicopters. Yet, she kept a safe distance when it came to flying over the then war-torn north for fear of attacks.
Recently, thanks to the military defeat of Tiger guerrillas by the Mahinda Rajapaksa administration, she chose to drive along the A-9 Colombo-Jaffna highway.

Her mission was to hand over 100 solar panels from a foundation in her name to residents of Atchchuveli and Ariyalai. During chats with them, Kumaratunga recalled that her last visit to Jaffna was almost 40 years ago and she was impressed by the lagoon there.

During her administration, troops re-captured the Jaffna peninsula from Tiger guerrillas in 1995. However, she was advised against a visit to the northern capital on grounds of security. Thus, a visit was not possible until she left the Presidency in 2005.

18 new horses for Police

The Police are to buy 18 well-bred horses for their mounted division. Tenders have been called through the Ministry of Defence. Police use horses mainly on ceremonial occasions and also for traffic management and crowd control.
The new comers will replace both the dead and aged horses in the Mounted Police Division.

Cabinet reshuffle: Some go to astrologers, others to deities

It is "harvest time" for some of the country's astrologers after speculation that a Cabinet re-shuffle is in the offing next month.
Though it may not be a full-fledged Cabinet change, some portfolios including education, higher education and petroleum industries are up for change, according to UPFA insiders.

However, there has been no official confirmation of the move so far. One of the astrologers who began receiving ministerial visitors was Sumanadasa Abeygunawardena, known to be President Mahinda Rajapaksa's astrologer. Some were thrilled at his forecasts whilst a few went out with pale faces.

A few of the ministerial types who did not take astrologers seriously were seen in Kataragama taking part in special poojas to invoke divine blessings to either keep their portfolios or seek better ones.

Sajith goes from temples to statues

The main opposition United National Party's deputy leader, Sajith Premadasa, is no doubt innovative when it comes to winning hearts and minds of those at the grassroots level.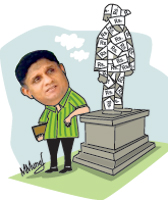 For many months now, he has embarked on a mission to donate Rs. 50,000 each to places of religious worship in different parts of the country. There were several temples which received those donations though at least one in Bandaragama turned it down on grounds that it was a political exercise.
Now, Premadasa has taken his innovation to a new level. He has begun making donations of Rs. 100,000 to help people put up statues in remembrance of important personalities.
He has already donated Rs. 100,000 for a statue in memory of the head of the Ramanna Nikaya, Most Venerable Weweldeniye Medhalankara Thera, who passed away recently.
Another donation of Rs. 100,000 has been made to the next of kin of late Wijeyapala Mendis, the one-time Katana parliamentarian, who has served many stints as a cabinet minister.
Two get the gallows job, but plank becomes an issue
If the job itself is to do things bizarre, the training they are being put through, to say the least, is eerie.
After much hemming and hawing, the Prisons Department has been successful in picking two hangmen from some 176 applicants.
The two positions fell vacant after one of the hangmen was promoted and the other retired. The identities of the duo are being kept a closely guarded secret but Prison officials say one would be posted to Welikada and the other to Bogambara.
They say the two would be trained using mock execution methods, an eerie task indeed.
Although there is no policy decision by the Government to reimpose the death penalty on those guilty of murder and other grievous crime, the men will be geared to cope if there is a change of mind.The selection of the two hangmen has not ended the issue.
Some of the unsuccessful applicants are angry at the process where they allege that a person of questionable integrity served on the board.
What was his fault? He was accused of stealing some planks from the gallows, built during the British colonial era, to make a cupboard. It now said to stand in his house, they claim.
MR the PR specialist meets sick politico
President Mahinda Rajapaksa is known for his charm offensives and his unmatched capacity at public relations.
This was highlighted once again this week. He was at a Sri Lanka Freedom Party (SLFP) event in Kegalle.
Rajapaksa noticed that Srilal Wickremesingha, a former Provincial Council minister and a regional party heavyweight, was not at the meeting. Upon making inquiries, he was told that he was ill. He was told that the local politician's house was far away from the venue where the event was taking place.
He asked Jathika Hela Urumaya (JHU) politician Udaya Gammanpila to make arrangements so Rajapaksa could see him. Ailing Wickremasingha was driven to the venue in a vehicle. The President took time off from the meeting to go to the vehicle and wish him speedy recovery.
Then Rajapaksa declared to his party supporters "Pakshaya wenuwen weda kala aya man kawadawath amathaka karanne nehe"(I never forget those who work for the party).
CPA delegates and the dogs
No effort was spared to ensure that all goes well when the 58th annual sessions of the Commonwealth Parliamentary Association (CPA) gets under way in Colombo on Tuesday.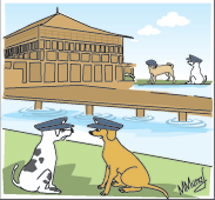 It will be declared open by President Mahinda Rajapaksa during a colourful ceremony at the Chinese built Nelum Pokuna.
Officials who want to ensure that the streets of Colombo and its environs looked nicer were worried about a problem. It was the presence of hordes of stray dogs around the Parliamentary complex, one of the places which delegates would visit.
At least 20 canines which loitered closer to the precincts were identified to be bundled into vans and taken to a dog pound. Then there was a change of heart.
They decided that the creatures could roam around. As one witty official involved in the arrangements remarked rather cheekily "these dogs could also be mistaken for those well trained and deployed for the protection of delegates. No one is going to tell them that they are the stray ones."
Who got Hirunika on the UPFA stage?
Slain Kolonnawa politician and presidential advisor Bharatha Lakshman Premachandra's daughter, Hirunika, sprung a surprise a few days ago.
The one-time beauty queen, who brushed shoulders with opposition politicians and joined a movement to abolish the executive presidency, appeared on the UPFA platform in Polonnaruwa. She not only spoke in support of UPFA candidates for the North Central Provincial Council but also debunked reports that she would join the opposition. For good measure, Hirunika also sang a song to entertain the voters.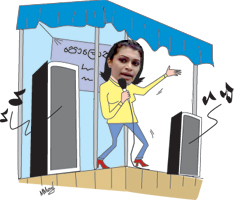 Only months earlier, her mother Sumana received appointment as presidential advisor and allowed to continue to remain in a government bungalow. She was also provided a security contingent.
Her appearance at a UPFA political rally came just a day after one time MP Hemakumara Nanayakkara, who resigned as presidential advisor, announced she would support a joint opposition campaign. That was to be spearheaded by former General Sarath Fonseka and former UNP deputy leader Karu Jayasuriya.
Did a businessman close to a military type persuade Hirunika to join the UPFA rally has become the talking point in opposition circles.
Follow @timesonlinelk
comments powered by

Disqus