'Nemo' back in Water
View(s):

'Finding Nemo' an American 3D-animated comedy-drama film written and directed by Andrew Stanton, is now being screened at Ultra in Majestic Cineplex Colombo. Walt Disney Pictures released in 2003 and re-released in 3D in September, 2012, 'Finding Nemo' will be released on Blu-ray for the first time on December 4, 2012.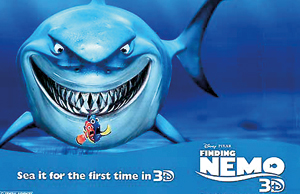 The film won the Academy Award for Best Animated Feature in 2008 while the American Film Institute named it the tenth greatest animated film ever made during their Top 10.
Nemo features Albert Brooks as Marlin, an over-protective clownfish on the Great Barrier Reef off Australia. He's a single parent, having lost his mate to a barracuda shortly before their sole remaining egg hatched. And the story is woven around the comedic and eventful journeys of two fish – Marlin and his son Nemo (Alexander Gould). Nemo has a tiny right fin, due to a minor injury to his egg from the barracuda attack, which limits his swimming ability. The film moves on to Nemo's first day of school. After Marlin embarrasses Nemo during a school field trip, Nemo disobeys his father and sneaks away from the reef towards a boat, resulting in him being captured by scuba divers.
Nemo is unexpectedly taken far from home and thrust into a fish tank in a dentist's office overlooking Sydney harbour. Buoyed by the companionship of a friendly-but-forgetful fish named Dory (Ellen DeGeneres), the overly cautious father embarks on a dangerous trek and finds himself the unlikely hero of an epic journey to rescue his son. Along the way, Marlin learns to take risks and let Nemo take care of himself.
The music by Thomas Newman and cast comprise of Albert Brooks as Marlin a male clown fish (Nemo's father), Ellen DeGeneres as Dory, Alexander Gould as Nemo, Willem Dafoe as Gill. Brad Garret as Bloat, Allison Janney as peach, Austin Pendleton as Gurgle, Stephen Root as Bubbles, Vicki Lewis as Deb, Joe Ranft as Jacques, Gefforey Rush as Nigel, John Ratzenberger as the school of Moonfish, Andrew Stanton as the seagulls and crush –green sea turtle, Nicholas Bird as Squirt a juvenile sea turtle, Bob Peterson as Mr. Ray and Barry Humphries as Bruce a great white shark.
Follow @timesonlinelk
comments powered by

Disqus