President catches up with protesting Berty
View(s):

When provincial council ministers took oaths before President Mahinda Rajapaksa last Monday many Cabinet ministers were present.

Former Prime Minister and now Senior Minister Ratnasiri Wickremanayake was among them. He was seen sitting in a corner of the back row. Economic Development Minister Basil Rajapaksa spotted the one-time PM. He quickly offered his seat. Wickremanayake accepted the offer and was seated in the front row.

A notable absentee at the event was Berty Premalal Dissanayake, former Chief Minister of the North Central Province. He was to come alone later to Temple Trees to take oaths before President Rajapaksa.

Dissanayake also did not turn up at the Jayasri Maha Bodhi premises when President Rajapaksa went there to participate in religious activities to remember late senior members of the Sri Lanka Freedom Party (SLFP).

Later President Rajapaksa paid a visit to former Chief Minister's official residence to meet Dissanayake. They had a chat for about half an hour.

The dawn call from the President

Civil Aviation Minister Priyankara Jayaratne was at the sacred Temple of the Tooth Relic in Kandy last Thursday morning participating in religious observances.

It was around 5.30 a.m. when his mobile phone rang. It was President Mahinda Rajapaksa."Happy birthday Priyankara. I just called you to wish you," he said.

Minister Jayaratne thanked the President and told him he is in the Dalada Maligawa engaging in religious observances.

Ambassador promotes family business in dpl tea cup

The Sri Lankan ambassador in a Western capital, a former businessman in his own right, has launched a major campaign to promote the sale of Ceylon tea in that country. But there is a catch: in his earlier avatar, the ambassador was himself in the tea business and was once described as "door-to-door tea salesman."

But he is still in the tea business, this time via a company headed by his wife based in a city far removed from where the embassy is located. So, in effect, he is promoting his own business in a Government campaign funded by tax payers in Sri Lanka. One wag remarks the ambassador is still selling tea — but from the backdoor of his embassy. Metaphorically speaking, not literally, we presume.

SLC brain in rain: Raincoats in cupboard while it rained and rained

When Sri Lanka played with South Africa, in their first-round game in the T20 ICC World Championship at the Suriyawewa International Cricket stadium, a huge crowd watched.  Interestingly that was the first time the two teams met. Pouring rain, however, delayed the match forcing the game to be limited to just seven overs a side.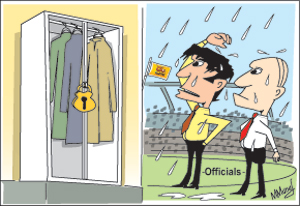 When rain fell, a foreign photojournalist ran away from the ground for a shelter taking his laptop but leaving his telephoto lenses and sun glasses . The ground staff who quickly ran to cover the pitch ran over the items left behind.
When he returned he realised his loss. The journalist complained to International Cricket Conference (ICC) officials that no volunteers deployed by them turned up to cover him with an umbrella. The ICC raised issue with local authorities as to why volunteers did not help.
The answer was: They were unable to do that because volunteers, many of them on hand, did not want to get wet. ICC officials argued that was why they gave Lankan authorities rain coats and umbrellas for 1,200 voluntary staff. What the local officials said shocked those in the ICC. What they gave has been locked in a cupboard and they did not have the keys, was the answer.
Music therapy, not horns, for bus conductors
Western Province Road Passanger Transport Authority officials say they want to use music therapy to train private bus conductors.
The aim of the exercise, they say, is to improve the conductors' mental strength to do their job in a more "responsible manner", the officials added.
Are they fit enough to hang?
Two hangmen picked by the Prisons Department are now undergoing medical checks. Prisons officials say this is to ascertain whether they will have the "mental ability" to play their role.
However, the issue of whether death by hanging should be introduced or not has not been resolved yet. The last hanging took place in 1976.
Ravi-Somawansa incident did not hit the headlines
Opposition politicians seized on the opportunity to join in when university academics set out on their long march to Colombo from Galle. Janatha Vimukthi Peramuna (JVP) leader Somawansa Amerasinghe was sturdy enough to walk a long way shoulder to shoulder with the academics. At one point, he knocked against UNP's Ravi Karunanayake.
"Obathuma ehen mehe atha danna epa. Enawa nam face to face enna. (Mr. MP, Don't attempt to hit us covertly. If you want to, come on face to face)" Somawansa Amerasinghe told Karunanayake pretending to be serious.
Karunanayake quickly applogised and added "Nayakathuma samawenna. Mang hithala kala deyak nemei. (Mr. Leader please excuse me. It was not intentional)."
Amerasinghe burst out laughing. Karunanayake realised that it was a joke. "Meka kaata hari ahunoth paththara wala pol gedi akuren yai. Eya nisa wediya me gena katha nokara imu. (If someone heard what you said, it would be in the newspapers. Let us not talk about it anymore)" Karunanayake told Amerasinghe.
Busy UN chief falls victim to prank-call mischief
The Masked Avengers, the notorious Canadian radio disc jockey duo, have struck again. Their latest victim: U.N. Secretary General Ban Ki-moon, says Column Lynch in his website turtlebayforeignpolicy.com.
He adds: "The comic team of Marc-Antoine Audette and Sebastien Trudel is best known for tricking former GOP vice presidential nominee, Sarah Palin, three years ago into participating in a six-minute conversation with a fake French President Nicolas Sarkozy.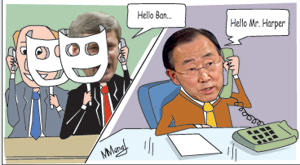 "Yesterday (Friday), in the middle of the U.N. General Assembly session, the duo placed a call to Ban, claiming that Canadian Prime Minister Stephen Harper wanted to talk to him. Ban's staff pulled him out of a meeting to take the call. Speaking in halting French, the fake Harper apologises for not showing up for this week's General Assembly debate, explaining that he had another priority to attend to: 'I was combing my hair with crazy glue,' he explains in French.
"'Excusé moi,' Ban responds, sounding confused. 'Is this Prime Minister Harper speaking?' he asks in French. 'Yes, hello, Stephen Harper speaking,' the fake Harper responds, speaking now in English. 'How are you Mr. Secretary General?'
"'How are you, how are you?' Ban answers, sounding relieved to be speaking in English. But his confusion returns when the fake Harper appeals to the world's top diplomat to use his diplomatic skills to convince the head of the National Hockey League, Gary Bettman, to return the Quebec Nordiques (who were sold to Denver and have become the Colorado Avalanche) to Canada.
"'Actually, I was calling you because the U.N. has to give the support to the return of the les Nordiques,' Fake Harper explains.
"'Pardon?' Ban asks. 'I was calling about the most important subject for us,' Fake Harper says. 'Oh, I do not understand what you are saying,' Ban says.
"'About what?' 'It's about the hockey team the Quebec Nordiques you have to speak to Gary Bettman to bring them back. Now it's a big situation.'
"A U.N. spokesman, Farhan Haq, confirmed that "the Secretary General did receive such a call and he very quickly realised it was a prank. He took it in the way it was intended — as a joke."
"In this week of all weeks there are so many calls coming in from all over the world and from many delegations, and it was perhaps not the best use of his time, but these things can happen," Haq said. "It's obviously not supposed to happen and we will be listening out extra hard in future for poor French accents on the line from Canada."
In 2008, Audette posed as French President Nicolas Sarkozy and got a call through to Sarah Palin, just days before the US election. Speaking in an exaggerated French accent, saying she would make a great president one day, and that he shared a passion with the governor for hunting.
"I just love killing those animals. Mmm, mmm, take away life, that is so fun," Fake Sarkozy told her. "You know, I look forward to working with you and getting to meet you personally and your beautiful wife," Palin told Fake Sarkozy, referring to Carla Bruni. "Oh my goodness, you've added a lot of energy to your country with that beautiful family of yours."
Follow @timesonlinelk
comments powered by

Disqus