A swipe by destiny has left them reeling, with their comfortable world collapsing around them.
It was a heart-rending telephone call that led the Sunday Times to the half-built home of R.P.K. Jagath Prasanna, his wife Priyanka Deepani and sons, Kalhara and Ravindu, at Arangawa, Horanpella, off the Minuwangoda-Divulapitiya Road.
Please help us, Jagath, 38, pleaded on the phone, desperate sobs breaking up his voice.
Jagath had been in the karola (dried fish) business, doing well and earning enough to think of building a home of their own on the 76-perch block of land they had in their village, when he was struck by cancer.
It was a "honda viyaparayak", he says, explaining that it was a good business, bringing the family a lot of money. He would buy karola from Colombo and sell it at the weekly pola (fairs) at Minuwangoda, Divulapitiya, Dunagala and Meerigama. Although the business brought in money, life was hard and he would toil a full day with no meals but cups of plain tea, a few cigarettes and a chew of betel.
Wish to help?
People who wish to give a helping hand may send their mite to the family's Account No. 8330027439 at the Commercial Bank, Minuwangoda, in the name of R.P. Karunanayake Jagath Prasanna.
Jagath lives at 515/1, Arangawa, Horanpella, Minuwangoda, and is contactable on 0776135064.
While at the Divulapitiya pola on a Thursday in 2007 that he got a kalanthayak (fainting spell) and felt his hand and arm go numb. Fearing that he was coming in for a stroke, a few of his vendor-friends rushed him to the Minuwangoda Hospital. But there was no major issue and he was back at work the next Thursday too, when there was another episode. "'I couldn't even lift a karola mitiya (bundle)," he says.
Next it was to Ragama Hospital that he went and following a battery of tests, the doctors zeroed in on a "chuti getayak" (a small knot) on his neck, which when shown to a doctor in 2004 had been diagnosed as a a "thel gediya" and harmless. This time though while Jagath was at the Ragama Hospital there had been a gradual change in his voice and a biopsy of the lump had brought out the bad news that it was cancer.
Thyroid cancer it was and on being referred to the Cancer Institute at Maharagama, he had been reassured by the doctors that though he would have to undergo a "loku" (big) operation, he would be cured of the cancer.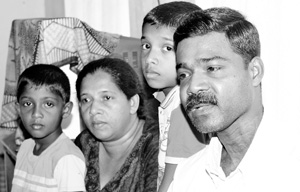 Hard times: With Jagath unable to work now, Deepani makes and sells murukku, to feed the family. Pix by Saman Kariyawasam
"Don't be scared," they told him. By now all the money in their bank book had been used up, for the family also had to make the long trips to Maharagama to see him. The house construction ground to a halt.
June 23, 2007 -- the day of the operation is imprinted on Jagath's mind. "I was taken to the theatre at 7 in the morning and brought out only at 5 p.m. Malayak dala wage bella wattetama kapala thibba," he says, adding that it was as if he was wearing a chain, the cut was round the neck. He had also lost his voice temporarily.
With the doctors advising him that he should not engage in tiring work, the family of four was at their wit's end how to keep starvation at bay. The family finances had been depleted to a naught, the cherished stuff in their home sold off and 30 perches of their land leased to a relative, to save Jagath. "All the pieces of jewellery I collected over the years are pawned at the bank, except my earrings," sighs Deepani who had worked as a diamond-cutter at a factory at the Katunayake Free Trade Zone but given up her job when the eldest son, now 10, was born.
Fortunately for them, the relative to whom the land has been leased is not demanding any poliya (interest) and not even wanting to fence off the land. He expects only the loan to be returned, which this family with its expenses may never be able to do. "Our relatives and neighbours have been wonderful," says Jagath, even helping out with the children's studies, as Kalhara who along with his brother goes to the village school is due to sit the Scholarship Examination in August. But, he worries, how long it will last.
Jagath shows the mark of his operation
After Jagath's major illness, assuming the mantle of the breadwinner, it has been Deepani who has taken up a self-employment project at home, laboriously making murukku, packeting them and selling them to boutiques nearby. It is no easy task, however, for without capital she has to buy the flour on "tick" and pay back when she gets paid on delivery of the packets.
She toils over three kilos of flour daily, mixing it into a dough and keeping it to rise before cutting strips and deep-frying them over a dara lipa (wood fire) and then adding a little chillie and salt and packeting them, amidst all her household chores and looking after the two boys.
For 25 packets she usually makes Rs. 100 and on a good day with three kilos she is able to get Rs. 800. "But I have to pay back Rs. 600 from that for the flour, coconut oil, chillie powder etc. that I have bought on debt," she says, her brow wrinkling over the rising costs.
Jagath too has tried his hand at a little work here and there but with a constant headache and the inability to turn his head, it is diffuclt to hold down a job. Destiny has still not allowed the family to break free of misfortune and Deepani is currently unable to work as she has undergone an operation to her right wrist. "For three years it was numb and I neglected it. Unable to ignore the ailment recently, I went to the Ragama Hospital only to be told that it was carpel tunnel syndrome," she says. The operation had been on May 3.
With the incomplete rooms having heaps of soil, the boys too are always ill. Absolutely frank, Jagath says that they were helped in their hour of need by the Vishwa Parami Foundation which not only fixed a motor to their well but also gave them a tank so that Deepani does not have to draw water, back-breaking work, for their cooking, drinking, washing clothes and bathing. It is Deepani who bathes Jagath twice daily.
However, this family is walking a tight rope. Thankful that Jagath has survived cancer, they are now looking for a means to get out of their financial quagmire. Their plight is obvious, when we gently ask them what they had for lunch on Tuesday – rice, some karola and cabbage, Deepani whispers. That's the lunch even the boys had. We don't talk of breakfast and "What's for dinner," we dare not ask.