No matter how little his name is heard these days, even a tiny inclination to western music will have you "knowing" at the mention of Lylie Godridge. Back before choirs and musical ensembles blossomed like mushrooms and a-capella was the fashionable kind of singing to do, he was making musical history in our little island.

Snapshots from the past: The Master Lylie (above) and (below) the original LG Singers
Now, it is reported, some ask if the LG Singers are from LG at Abans!"It was a good opportunity for us to learn that humility must go hand in hand with what we do," laughs current choirmaster (and Lylie's son) Willie Godridge. And far from being an insult to the choir, it seems a testimony to Kalasuri Lylie's character and integrity as a musician that the LG Singers aren't a famed choral ensemble.
Even as a young boy, John Lylie Godridge, born March 4, 1928 to a poor family in Kotahena, showed clear signs of musical genius. His beautiful treble earned him scholarships to school and the attention of scores including the then Governor of Ceylon, Sir Andrew Caldecott. Already more than familiar with stage performance and radio air-play, at 23 he was made a soloist in the Colombo Philharmonic Choir's rendition of Bach's 'St. Matthew's Passion', earning the chance to meet the likes of Peter Pears and Benjamin Britten. In 1981 Lylie was commissioned by President J.R. Jayawardene to tour the world as Sri Lanka's Singing Ambassador, and in 1993 honoured with the Kalasuri title. Scores of music lovers remember him for his mellow baritone, others for his skill at all things musical, but despite all his worldly achievements, most remember Lylie Godridge for his jolly, unassuming nature, his humility, and his gentleness.
While any of us would have grabbed the opportunity to make a fortune and rise in society, Lylie Godridge, despite his "star" qualities, remained true to his conviction that as his musical abilities were a gift from God, he must use them as a gift to God. He placed his commitment to Christianity above every kind of achievement, moving further and further away from profit-making ventures. Though to some his choices may have seemed peculiar, to those he inspired, there was no replacement.
The LG Singers (now careful to call themselves the Lylie Godridge Singers!) seem a reflection of the dear old man who started them up and kept them going to his very last days in 1998. And this character that refuses to be affected by ambition and remains simple is what sets the LG Singers apart from (boldly we say) all other vocal ensembles in Sri Lanka.
Willie remembers their heyday when Christmas time alone was packed with upto 15 performances, and a year's work probably involved close to thirty nights of singing. From there the LG Singers have come to rare performances made only on request, but their spirit remains the same.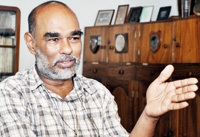 Willie: The music and the spirit live on. Pix by Indika Handuwala
The choir is just heading into its 50th anniversary, and from its birth at 2A Allen Avenue, Dehiwela on May 15, 1962, hardly anything has changed, not even the practice/rehearsal (both words are inaccurate, really!) schedule. As many of the "boys" (very much so at heart at least!) put it, they look forward to the weekly session. Whether they are preparing for a performance or not, Tuesday evening 6 p.m. is the "sacred" time "like Sunday mass" as Eshantha de Andrado, member of 25 years, puts it. "It's like the boys club" laughs Willie, "without the wine and the women, but plenty of the song."
And the songs themselves have hardly turned over. A special thanksgiving service celebrating the 50th anniversary of the LG Singers will be held on May 19 at St. Paul's Church on Kynsey Road, Borella starting 6 p.m. Of the nearly 20 spiritual numbers they plan to sing that night, Willie says only two have been added to the repertoire after he took over from "Pater". 'Swing Low', 'Nobody Knows' and 'Let the Heav'n Light' are among the popular spirituals on the programme while those like 'Rock-a My Soul', 'Spiritual Medley' and 'Sinner Man' are the LGs' favourites, the ones Willie laughs they have "possessed".
Negro spirituals have always been the LGs' forte, but over the years they've built up a vast repertoire of a-capella numbers ranging from classical to contemporary styles. The LGs staggering commitment to music and to the man behind their music – nearly every Tuesday of the year for 50 years is no small feat! –and if nothing else, has taken them places. They have performed in Galle, Jaffna, Batticaloa, many times in Kandy and twice in fact in India. A potential performance in Israel though it never materialized still speaks volumes for the strength of the choir. Through all this, not one of the LGs has ever profited a cent or intended to do so, all proceeds from their performances being donated to charity.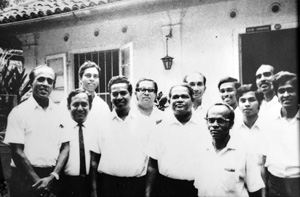 Even as they celebrate their 50th anniversary this year with a thanksgiving service and not a gala performance at a grand venue, the LG Singers honour their founder's vision of music as a "gift from God" that must be shared, not made use of. Lasantha Tennekoon, Choirmaster at Trinity College, Kandy has teenage memories of the LGs as "a jolly bunch of people" and Lylie Godridge as a man who understood the "true spirit" of music and simply "wanted music to live on" in people's lives.
For Shanthilal Perera, who has been with the LGs now for 26 years, he "can't really think of anything that has changed". Paul Bibile one of the twenty-odd singers first invited to form the group, remains the only original member who still sings with them. At 79 going on 80, his voice is unbelievably steady and firm, and one is unlikely to find him catching his breath whether he sings or speaks or works one of his two jobs. If he is any indication of the level of vocalist produced and breath and voice control demanded by the LGs, then one cannot help but be impressed.
Funnily enough, not many of the LGs see themselves as musicians, and according to Willie, some of the current members were not even quite sure they were capable singers until they started singing with the choir. This is one of those "things" about a genuine love for music, that while sharing the love and joy of a good listen, one inevitably also shares something of one's gifts and talents in the capability to produce. It works like love; giving increases the receiver's ability to give. And so they sing and sing and sing...for themselves undeniably, for God inevitably.