When I saw her the other day at the merit-giving ceremony held in memory of the late Sangeeth Nipun P.V. Nandasiri, she looked assuredly agile and as unpretentious about her looks as she is in her career of singing. Her silvery hair in a bun and braided hairdo may have added a couple of years to her age but that there is something still girlishly sweet about her is quite comforting to us, her fans.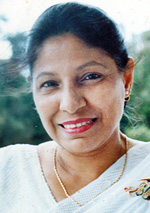 Sujatha's illustrious career as a vocalist spans over 50 years. She may not have sung passionately to stir up a nationalist frenzy but she has made immense sacrifices in the cause of the nation. She lost a son – a Captain in the Sri Lanka Army in the battle against the LTTE and her other son too was in the battlefront as a pilot in the Sri Lanka Air Force.
Sujatha became an icon of the local music scene quite early in her career and it is to her credit that there were no musical big-wigs or political patronage to prop her up. It was sheer talent, tenacity and training that made her a prolific singer and she made her name with a series of memorable numbers for the cinema of the day in solos or duets.
As a playback singer Sujatha, along with the legendary Jothi, created a number of all-time hits which have not faded, even many years after they were first recorded for the Sinhala cinema.
When Jothi was labelled as a singer sans formal training by the so-called "Cultural School" (Prabuddha) of critics, Sujatha's presence on the scene as a classically eloquent singer singing duets with him served to consolidate Jothi's image as a gifted singer of the calibre of Rafi. With songs such as "Aava Pemwathaa" which they sang together, the Cultural School of critics had to tone down.
Jothi came to regard Sujatha as his mentor, so much so he was cautious even to pause for a smoke when she was around out of sheer respect for her as he knew she was there to back him sincerely on his way to becoming a famous singer.
The songs such as, "Ananda Me Rae Harii Hadaine" and "Madura Yaame" sung by Sujatha with Haroon Lanthra produced memorable voice combinations in the duets while the award-winning film "Allapu Gedara" stands out in the almanac of all-time songs.
Our Sinhala Avurudu without Sanath (Nandasiri) and Sujatha's "Koho Koho" or our weddings without her solos, "Malsarata Premaloke Maaligaa Thanaa"and "Puchi Davaswala Nindata Yaddie" would not be the same. Similarly it is beautiful to have to listen to Sujatha sing "Aagantuka Kurulla" characterizing young daughters brought up in the Sri Lankan tradition.
Whilst ready to help emerging artists, she has also made it clear that she will not tolerate attempts at discourteous and unscrupulous usurping of her songs sung in solos or duets. Well, that's Sujatha!
She stopped stage performances not out of conceit, as some may think, but rather because she valued her time and peace of mind for the sake of her family and children. Hers is a modest living despite being blessed with means. Constant practice takes a fair slice of her daily routine, which she believes is essential for a singer to be assertive and maintain their singing integrity.
Hers is a voice resonant like a distant temple bell chiming. Tinted with a unique mellow tone, it is characteristically heart-throbbing and ideally expressive of the sweet-sorrow of love that appeals to the romantic youth, as well as those of mature age who want to reminisce about their youthful days. "Parasathu Malwala Suwanda Atheethe" which she sang as the theme song for Gamini Fonseka's film "Parasathu Mal" bears the stamp of this quality of voice and the emotional appeal of her delivery.
It is perhaps because of this intimacy that her songs are often the chosen at TV singing-star competitions. Her prowess in the classical tradition of singing is acknowledged too. She recalls with great gratitude the composers and lyricists who gave her so many songs with beautiful melodies and meaning to sing and the film producers and directors who gave her opportunities to shine.
She will reappear on stage after a long absence on May 18 at Nelum Pokuna where we will have that unique opportunity of hearing her in "Sujatha live in concert".