"Beautiful, intelligent and charismatic. That's what a Miss Sri Lanka is," says Lou Ching Wong, commenting on the Miss Sri Lanka for Miss Universe pageant. Together with fellow event Directors Sangeetha Weerarathne and Shereen Kumaranatunge, he is heading the production for this year's pageant and they are determined that it will be an affair to remember.
"I want our girls to get the recognition they deserve,"' says Sangeetha, confident in her role as Director along with Shereen. The two have been working together for quite sometime now-as partners, running Modelshop. They know what it takes to make it in the glamorous world of pageantry. They were recommended to Rosita Wickremesinghe, who owns the Miss Universe franchise in Sri Lanka, by Lou. "Lou has been my producer for many years and I have great confidence in him," says Rosita. "I'm pleased to be working with this team for this year."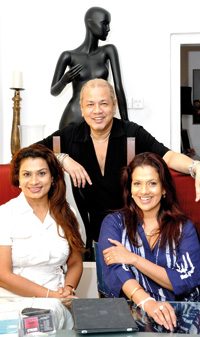 The trio: Determined to make it a pageant to remember. Pic by Susantha Liyanawatte
"Our main aim with this competition is to find a girl who not only wants to win Miss Sri Lanka, but also wants to win Miss Universe," the organizers are quick to emphasize. "That drive is very important for anyone who wants to win this competition. You often find that the girls are focused on just winning Miss Sri Lanka-they've forgotten that the final goal is to take part in, and hopefully bag the Miss Universe title as well."
They have already lined up several mini-pageants and fashion shows leading up to the main event. Titles will be awarded to the beauties who take part, and this will count towards their final tally. "We have to work in accordance with the guidelines set by Miss Universe International," Lou explains. "The final event, which will be held on July 22 at the Hilton Grand Ballroom (special invitees only), is where we crown the winner who will represent Sri Lanka to the world. But most of the contestants' marks are given at these pre-mini pageants." As the official event production designer and choreographer, Lou laughs as he identifies his role in the organizing process. "They find the money," he gestures at the two ladies. "I spend it!"
In all seriousness however, he's played a major role in Sri Lanka's pageant scene. Having been part of the Miss SL for Miss Universe pageant for some years now, his is a wealth of experience that has been a boon to Sangeetha and Shereen. Lou will design the concept for the programme, while the two ladies will execute it.
Getting back to the point, what they're looking for is young beauties between the ages of 18-27, with height, beauty and brains. With a uniquely Sri Lankan identity, mind you. "You've got to be proud of your Sri Lankan identity. You must be able to speak about your country with pride. This is a once in a lifetime chance you get, to represent your country on an international platform. It's not just about being beautiful; it's about being an ambassador for your nation and having the strength to stand tall in the public eye," they say.
After selection, contestants will be trained in the art of catwalk, personal grooming, photography modelling, hair and makeup, and numerous other details by industry professionals. These individuals are some of the best in their field, and Lou maintains that this is not something you'll find anywhere else. "Where else would a young girl learn these things at no cost at all? The experience of being part of Miss Sri Lanka itself is invaluable. To be part of this pageant, with the high standards we're maintaining and the definite exposure you get is something no young girl should miss out on."
Sangeetha knows exactly what a beautiful face can do. "The thing is, the world is going to see Sri Lanka through your eyes. Look at India-we perceive it to be glamorous and inundated with beautiful people. W see India through the eyes of people like Aishwarya Rai and Priyanka Chopra, don't we? And that's what we want for Sri Lanka. For the world to see the beauty of our country through the eyes of a Miss Sri Lanka.'So are you all of these things? Then this is for you. Entry forms are available in the Sunday Times, the Daily Mirror and Lankadeepa (Tuesdays and Thursdays). -D.I.