James Ferreira and Niloufer Anverally of Cotton Collection have been friends for most of their life. They finish each other's sentences and roar with laughter when the other remembers a particularly funny episode from their youth. Having met him back in her university days in Bombay, Niloufer was captivated by James and his life. "He had this beautiful home, and all sorts of people were walking in. I was completely overtaken by James' character!"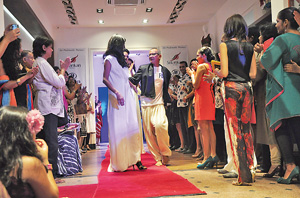 Applause for James Ferreira at the end of the fashion show at Cotton Collection's flagship store at Dharmapala Mawatha, Colombo.
Pix by Mangala Weerasekera
James, one of India's top designers, is down in Sri Lanka on Niloufer's request for a never done before prêt-a-porter line for Cotton Collection, and he tells us he wouldn't have it any other way.
"I've known Niloufer for the best part of 25 years. And I've been coming to Colombo for the past two decades. It made sense to begin a new venture here," he says.
James is part of the Indian fashion powerhouse, and has been so since the start of his career. His renowned design philosophy involves using a single piece of cloth to create beautiful silhouettes that fit a woman's body to perfection. "I'm a draper," he explains. "I drape the fabric over a dummy and then use innovative cutting to get it right. But it's all in the draping, you have to get that part right." His pieces are famous for their Western silhouettes achieved with smartly utilized Eastern techniques of draw-string and bias cutting.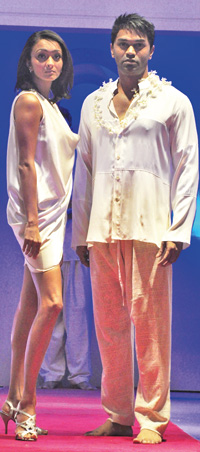 He first exhibited in Sri Lanka two decades ago, back in 1992. "That was a good show," he recalls. "And slightly controversial. I remember wearing a lungi when I came out at the end of the show, and there was quite an uproar, as your men didn't wear the lungi at that time." Niloufer laughs and chips in, "Well certainly not in the way you wore it, James."
He's been travelling to Colombo ever since that first show in '92 and is unhesitant about admitting that he is in love with the city. He visits Colombo at least once-sometimes thrice- a year, and loves the bustling city life. He even sheepishly admits to only having been out of the city only once, to Galle. "I like my creature comforts, and Colombo's the perfect place for it."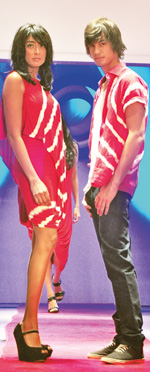 The James Ferreira brand was an important part of this year's Colombo Fashion Week, where he used vibrant hues in silk for a line of evening dresses for women and a line of colourfully dyed shirts for men. Once again for Cotton Collection, that line will be made available in the stores along with the new collection as well, from this week onwards.
This collection he's done for Cotton Collection is all about elegance, comfort, and affordability. James, as an independent seller, markets his clothes for an exclusive client base, and thus you wouldn't find his clothes for less than 20,000 Indian rupees, says Niloufer. "What Cotton Collection has done is to make it affordable to your average person, but still retain the exclusivity."
It's something he's never done before, but he says that Colombo is the perfect place to start this new venture. He'll be presenting a selection of one-off items in batik and pure silk, along with a range of other cotton wear. Some of India's top models displayed his clothes on the ramp, when he presented the collection for the first time on Thursday.
James is confident in the success of this venture. "The similarities of our two countries are just endless," he points out. "I think it's time that we realized we're perfect business opportunities to each other, rather than looking westwards. Our people have the same body shapes, and our designers know how to design for our climate and society. Sri Lanka needs a designer collective and I think it's great that Nilou is taking the initiative with this show."