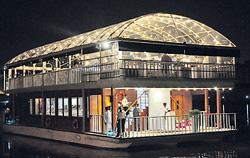 Members of the media and close associates gathered by the Beira Lake at the Cinnamon Lakeside recently to board their new floating venue '8` on the lake along with GM Denis Gruhier and his PR team.
With a capacity to accommodate a hundred passengers, the upper deck is where the dining takes place.
The all white décor from railings to the bar counters and cane and glass dining tables and chairs,looks slick, spacious and airy.
What was meant to be a quiet sail on the Beira turned out to be one big party. Dancing was never on the cards, but the superb music belted out by 'Quest' got everyone on the floor.
'8` formally opened in December last year, exclusively for private banquets. However, due to numerous requests the management has now opened '8` on the lake for private dining ( by reservation ) and for special promotions.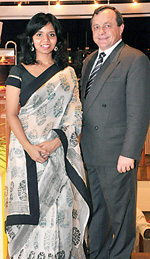 Guests present at the occasion. Pix by Mangala Weerasekera