Popular band Misty will take wings to Down Under next week for their one month along Aussie Tour.
Rajitha Rupasinghe and his band Misty will be in action Clayton Town on 18th May. This show will feature Misty along with few Australian based Sri Lankan musicians.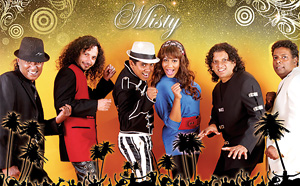 This will followed up by a gala dinner dance on the 19th at the Serbian Hall, Keysbourough Melbourne.
'These events were put together by Club Ministry and DJ Naz' said Rajitha in a special interview with TV Time.
'Our next big gig happens in the heart of Sydney at the prestigious Shangri La Hotel on the 2nd of June, which is apparently a sell out. We are delighted to perform for this event for second successive time Organized by the Doctors association in Sydney which is a black tie event with plenty of glamour' he added.
Log on to our website www.mistysmusic.com for more details.