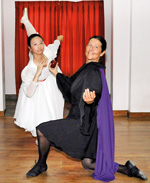 In 1812, two brothers told the world a story of an unfairly treated young princess- the fairest in the land; her evil stepmother, a poisoned apple and a spell-breaking kiss of true love. To no one's surprise, the tale became one of the world's best loved fairy tales; retold countless times in literature, opera and film- from Walt Disney in 1937 to Tarsem Singh in 'Mirror Mirror' earlier this year.
Yet the timeless tale has an undying appeal to 23 year old Wendy Perera who prepares a cast of 100 young dancers for a vibrant dance adapation- 'Snow White- The Fairest of Them All' which will take the stage of the Lionel Wendt on May 19 and 20.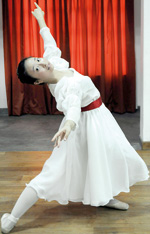 "I think the story of Snow White is and always will be alluring in it's the simplicity with it illustrates the cost of vanity," explains Wendy. "This performance does focus on this; and in essence follows the traditional story line but we have put a new spin to it. We add in an enchanted forest with nymphs which is protected by the 7 spirits of the rainbow leaving out the seven dwarf miners mainly due to the lack of boys which is a sad case."
Wendy considers her cast- students aged four to 15 years. "In many ways I think teaching has changed- a teacher can't afford to be 'old school' with her students because that just pushes them away! I want to be more than a ballet teacher to my students; I try to be approachable on anything they wish to ask. At this age they listen more to teachers that parents which is normal (I was like that myself) so as a teacher it is my responsibility to listen and carefully guide them not just in class but in life."
The tale of Snow White then, is in Wendy's opinion the perfect story for narration by this cast. "It is one of those tales which is awesome when retold by children and is not one of those ballet classics which I personally don't like to adapt from the original form."
'Snow White- The Fairest of Them All' will be Wendy's second show with her students. "I have done a small scale show of mine in 2010," she recalls, "but this time it is such a big undertaking in everything involved. When you see the students only once a week for an hour and you don't have your own space to conduct rehearsals whenever you want to, it is really hard to co-ordinate and one truly has to be very adaptable.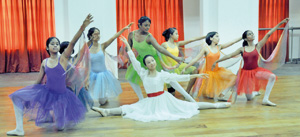 And of course it all comes down to that thing that makes the world do round- the financial backing you need for a production and the not so willing corporate world is tough! I am so thankful to parents who have gone out of their way to find sponsors and advertisements and their donations and contributions, for otherwise I might have had a breakdown some time ago!"
The show will also have a small second half after the interval which will incorporate dances from character, hip hop, jazz and contemporary representing a season as its base.
"As dancers you have to always be adaptable and being able to do other genres is an important part of training," declares Wendy. " I myself will be performing a contemporary piece which I created along with Kiho Tanaka who will be dancing the lead role of Snow White."
Exclusive print media sponsors of the show include The Sunday Times and The DailyMirror. The Exclusive Radio sponsor is TNL Rocks. Proceeds from the show will go towards the Children's Home- Home of Hope. Tickets for the show priced at Rs. 1000, 750, 600 and 500 will be available at the Lionel Wendt.