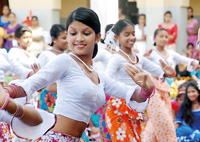 The students of Holy Family Convent, Bambalapitiya, traded their school uniform for the colourful redda and hette on April 27 and engaged in all the traditions linked to the Avurudu celebrations from the lighting of the hearth and boiling of milk, partaking of food, ganu-denu to games such as raban-playing, kana mutti and a tug-o-war between the Prefects and the osari-clad teachers.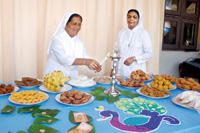 Among those who graced the celebrations were the General Manager of Catholic Private Schools, Colombo, Fr. Ranjith Madurawela; the Superior of the Convent, Sr. Henrietta; Principal Sr. Chandani Jayasuriya; and Vice Principals Sr. Priyanthi Jayatunga and Ms. Shiranee Doss.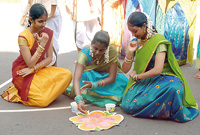 The winner of the Avurudu Kumari in the senior category wore an osariya (Kandyan saree) of coconut and jak leaves and a blouse of newspaper, set off by a jak-seed necklace.
The celebrations mooted by the Parent-Teacher Association, were organized by the Sinhala and Tamil Student Unions and the Prefects.
Pix by M.D. Nissanka