Dulani Ramenaden is the new Yes FM Superstar (YSS). At 29, she is vivacious and passionate about singing; just as Sri Lanka's newest superstar ought to be. Having grown up in Kadana, she attended St. Sebastian College and De Mazenod College and has been singing from a young age as part of school and church choirs. Dulani knew from a young age that singing was something she wanted to pursue in life.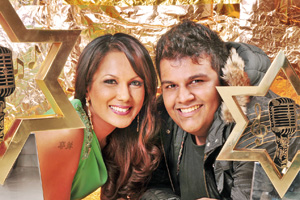 Interestingly enough, she spent a year in 2005 singing at resorts in the Maldives. 'It was lovely, to spend all my time singing. But it got a little monotonous after a while, and I decided to come back home.' She also sang with Kevin Almeida of Exit and Derrick Wickremanaike of the Rebels, experience she regards as formative to her singing.
Singing came to a hiatus, though, as Dulani took a break to pursue an HND in Fashion Design. While she hasn't pursued fashion design commercially-yet, she laughs, it's something that she works at on the side.
Dulani was listening to the radio after lunch at work when she heard applications being called for Yes FM Superstar. "I thought, hmmm. I should do this. I was talking to my fiancé and he was very supportive about it. So then I went for the auditions, got selected to move on in the competition, and things started getting serious. I have to say, my employers at Brumbies International were very supportive. For my audition I sang "Bohemian Rhaposdy" and "You Raise Me Up". I wanted to do Bohemian for the finals as well, but was advised against it by friends. Probably for the better!" she laughs.
"The best part of YSS was the behind-the-scenes aspect. All the contestants practically became family." She recalls the long nights spent and downloading and researching songs. Her fiancé
Shehan and her friends rallied behind her, walking the streets every Wednesday campaigning on behalf of her. Even relatives abroad helped. From sponsoring clothes to words of encouragement, Dulani had everyone behind her.
"The final week was crazy," she recalls. "The late rehearsals and the pressure-Jude and I could barely stand straight. " She was one happy girl recalling the moment her name was announced as the next Yes FM Superstar. "I really wanted the chance to make a name for myself as a singer, and YSS gave me that. It's something I'll always be grateful for."
Jude Perera is possibly the most raucous 19-year old one could come across. Literally bounding up to meet me he launches into the interview with no misgivings and much enthusiasm. "Superstar was such an awesome experience," he says. "I loved, absolutely loved it." Having grown up in sunny California, he moved to Mexico for four years with his parents. This was followed by a short stint in Bangladesh where he did some volunteer work for the UN, and then it was off to start university in the UK. He's been in Sri Lanka since late October last year, and says he now can't imagine moving again.
"I heard about it when I was travelling in the car, and it sounded like such a fun thing to do. So I auditioned, made it through to the next round, and that's when it started sinking in that this was a competition. I remember going up on stage and the band are like, 'so what key are you performing in?' and I'm like, 'err. Come again?'
They'd just look at me like I was scum! But nah, those guys were very helpful though. I can definitely say I learnt a lot." "I've never been a singer at a competitive level," he admits. "My parents always stressed on academics, so I was mainly a bathroom singer. But I loved singing, and I still believe that if anyone loves doing something, they will eventually become good at it. Not to say I didn't have my problems in the competition though-something I didn't know before I did this was that I was a little tone-deaf. There were a lot of pitching issues," he grins. "But the judges helped me out, especially Natasha."
"The problem with essentially being a foreigner here was that I had trouble when it came to votes. I didn't know a lot of people, so obviously that was an issue. But people rallied- contestants who got voted out especially took over my campaign on behalf of me. All for the better-every elimination round I looked like I was about to explode!"
It was, he says, probably the best experience of his life, coming into the finals. One he's never going to forget.