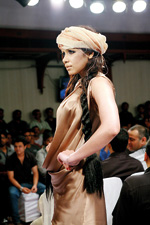 A designer who has been quietly making inroads into the mega Indian fashion scene Prabath Samarasooriya has been flying the Sri Lankan flag with his characteristic flair. Prabath first showed outside Lankan shores at the Hyderabad Fashion Week in December last year and last month made a splash at the Cochin Fashion Week alongside top Indian designers, such as Riaz Ganji, Vivek Karunakaran, legendary designer Monapali, and many others.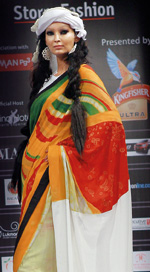 "This time my theme was 'Tibetan plateau' but blended with a Sri Lankan flavour," says Prabath who is a strong believer in promoting the skills of Sri Lankan craftspeople. His collection he called "Frozen Lotus" and it's one he describes with vivid enthusiasm: "The colours are intense but from time to time go from sober to dark…we feel the cold yet the joy blinks…robes like dresses flow with shades of colours like clouds on the mountains. The inspiration comes from the Tibetan plateau."
It was well received, he says, quite gratified with the reception. Cochin is not exactly the most famous fashion destination in India but with tourism on a roll there, the fashion industry is beginning to sense its potential he feels. He's already had invitations to return.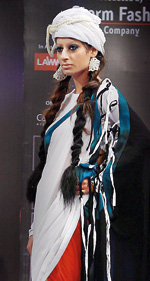 In his hands Sri Lankan lace, and new batik and dye techniques make a dramatic story on the catwalk. Colourful sarees are extremely deconstructed into patchwork, dye work and separate pieces, attached with unconventional trims – the idea being to make this timeless, traditional garment, a fun, funky creation for the modern woman. Prabath's dresses too have the same original style - they're asymmetrically cut and made into dramatic drapes. Colourful turbans, lace jewellery, and a hundred percent cotton fabric made his collection noteworthy on the catwalk, very different from the glittering Indian creations on show.
But then Prabath is a designer who has a sound background to his work. He started off as an artist, dabbled in jewellery design for a while and also worked for an Italian and Norwegian firm designing knitwear for the international market. These days he's very involved in the academic side as well, imparting his knowledge to aspiring young designers at the Academy of Design (he holds a first class degree in fashion design from Northumbria University).
What Prabath enjoys is experimenting with the saree and some of his trademark handloom creations can be found at Rithihi. He also creates one-of-a-kind sarees on order; contact prabathsss@yahoo.com
Uditha Chandimal from Event Concept co-ordinated Prabath's presentation.