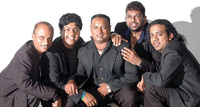 'Sandai Sisilai', the second album of Lucky Deva of band Spirit, will hit the shelves of music stores from Friday, 19 May. 'Sandai Sisilai' will feature remake melodies and songs of the 70's and 80's era.
The 70's popular songs 'Popiyana Dethole', 'Maage Mathake', 'Obe Ruwa', 'Kandukaraye Seethale' and the female version of 'Nilupul Suvanda Ura' by Gypsies are some of the hits included in this CD.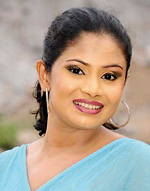 Amila-Nadeeshani
'I have rerecorded these songs with the proper permission of the original singers. I have used the new studio technology with live music for the recording, keeping the original style as it was before. All my new compositions bears meaning full lyrics. All my recordings was done with Udara Fernando of Studio faith and Hope in Moratuwa' Lucky Deva explained.
His daughter Shenya Napthalie and sister Lankika joined him in singing for this album.
Amila Nadeeshani, Indrani Perera and Sureshni Wanigasuriya of ex-X'Periments joined the CD in singing duets and with my Band Spirit, who provided music for the entire album' he said.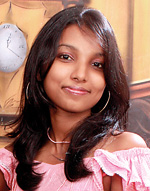 Shenya Napthalie
'Maliniye Roo Rajiniye' a tribute to Queen of Silver screen, Malani Fonseka was his first album. This will feature a tribute song to Malani along with new songs composed by Lucky Deva.
I have composed many songs to other singers like Annesley Malawana , Chandani Hettiarachchi ,Christeen Gunawardena, Corrine Almeida and Nadeeshani with this style.
'he musicians like Clarence Wijewardana, Neville Fernando, Nimal Mendis inspired me to follow this style of 70's. I have learned a lot when I was with the Golden Chimes' he said. Thissa Nagodawithana (protector of Sri Lankan films) and A.C Fernando (former senior teacher at the Prince of Wales College) will be the chief guests at this launching ceremony on Friday at 6.30pm.