Gurukula MV Kelaniya recorded the first win of the 24th 'Battle of Kelaniya' encounter when they defeated home town rivals Dharmaloka MV by ten wickets to break the big match winless hoodoo at the R. Premadasa Stadium yesterday.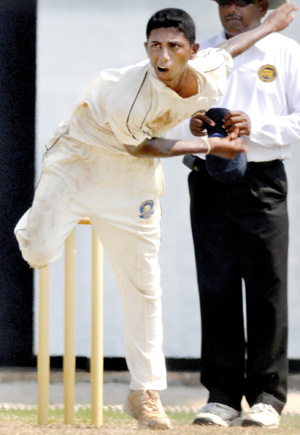 Gurukula MV bowler Upul Madhuka in action. Pic by Ranjith Perera
Gurukula MV Kelaniya dominated the proceedings in the morning session of play on day two yesterday when they went in for quick runs and succeeded in achieving it. When play stopped for lunch Gurukula MV had laid the foundation to record an outright victory as they had Dharmaloka MV struggling for survival to save the match.
It was overnight batsman Lisula Lakshan who was unbeaten on 50 who gave his side a substantial lead, Lisula was unfortunate to miss out on a ton making an 84 which came off 158 balls and had eight boundaries.
He also put on a valuable 56 runs stand for the sixth wicket when Gurukula MV was struggling on 103 for 5. This incidentally was the best partnership of the innings and it helped Gurukula MV resuming from their overnight score of 117 for 5, to make 200.
The first day saw Gurukula MV restricting Dharmaloka MV to 115 and ending the day on 117 for 5. Gurukula MV resuming from their overnight score went on to make 200. Dharmaloka MV batting the second time with a deficit of 85 runs again underwent almost the same torture as in the first innings. They lost the first four wickets with the score being 46 runs on the board before Sulaj Gayashan and Gayan Geethanjana put in some resistance which in the end proved to be insufficient.
Dharmaloka MV succumbed to right arm spinner Hashan Dumindu who ended with impressive figures of 4 for 20 from 20 overs for another low score of 113. This left Gurkula MV a simple target of 29 runs which they achieved in the eighth over.
Scoreboard
Dharmaloka MV 1st innings 115 (Tharindu Madusanka 31, Malka Madushan 20, Sapumal Bandara 17; Roshan Anuruddha 3/29, Nalin Perera 2/15, Hashan Dumindu 2/15)
Gurukula MV (117 for 5 overnight)
Kasun Madusanka lbw b Geethanjana 09
Chamod Sulakshana b Geethanjana 08
Lisula Lakshan c Bandara b Thiwanka 84
Shashin Dilranga b Bandara 02
Roshan Anuruddha st Madushan b Thiwanka 14
Hashan Dumindu run out 20
Nalin Perera c Madushan b Pathum 20
Nipul Maduka c and b Thiwanka 09
Namal Pathum c Anjana b Pathum 17
Dushan Dhanushka b Thiwanka 00
Lahiru Madushan not out 00
Extra (b5, lb4, w2, nb6) 17
Total (all out: 56.5 overs) 200
Fall of wickets: 1-18, 2-19, 3-28, 4-60, 5-103, 6-159, 7-177, 8-192, 9-192.
Bowling: Sapumal Bandara 13-2-45-1, Gayan Geethanjana 10-1-46-2, Ravindu Thiwanka 12-3-31-4, Gayantha Anjana 4-0-15-0, Janaka Pathum 10.5-2-30-2, Malka Madusanka 4-0-15-0, Sulaj Gayashan 3-0-9-0.
Dharmaloka MV 2nd innings
Janaka Pathum lbw b Madushan 02
Tharindu Madusanka c Anuruddha b Dumindu 22
Gayantha Anjana b Maduka 04
Gayan Geethanjana lbw b Maduka 27
Nimesh Aravinda lbw b Pathum 04
Sulaj Gayashan c Dilranga b Dumindu 30
Sapumal Bandara c Lakshan b Dumindu 01
Janith Madushan lbw b Pathum 11
Malka Madusanka b Pathum 02
Prabudha Harshitha not out 00
Ravindu Thiwanka c Madusanka b Dumindu 02
Extras (lb4, w1, nb3) 08
Total (all out: 69.1 overs) 113
Fall of wickets: 1-8, 2-30, 3-37, 4-46, 5-90, 6-95, 7-106, 8-109, 9-109.
Bowling: Roshan Anuruddha 13-5-20-0, Lahiru Madushan 3-1-3-1, Nalin Perera 5-2-4-0, Hashan Dumindu 20.1-11-20-4, Dushan Dhanushka 2-2-0-0, Namal Pathum 14-5-27-3, Nipul Maduka 12-3-35-2.
Gurukula MV 2nd innings
Chamod Sulakshana not out 12
Lisula Lakshan not out 19
Extras (b1) 01
Total (for no wicket: 7-1 overs) 32
Bowling: Janaka Pathum 4-0-11-0, Malka Madusanka 1-0-9-0, Ravindu Thiwanka 2.1-0-11-0.