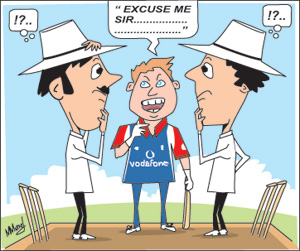 The Umpires who stood at a recent game between a touring English team and the local team were flabbergasted that the Umpires could not understand English!
Reports have been handed in by both teams to the officials concerned and none of them favour the 'Men in the Middle'. Wonder on what basis these officials were picked!
What do we do now?
There was a time when a game against a neighbouring country was considered a nonentity in whatever sport a local team was engaged in.
The recent defeat of one of our top teams by this nation was too much to stomach that the Big Man berated the authorities concerned. He told them in no uncertain terms that they were put there to uplift the game and look, what has happened! He asked the top officials: What do we do now?
Orders over the phone
A certain official who was in charge of a top cricket field down south was given the task of getting the ground ready to play a top team from the cooler climes. However this official was not there as he was away watching his team being smashed by the home team in a neighbouring country.
Not to be outdone this official was giving orders by phone as to what to do in order to get the ground in condition. The game began on Friday but all was not to the liking of the participants. Let's see what they have to say about the grounds?
The boozing trio
Now there is an interesting story about a Translator who translates from English to Sinhala at a leading sports body. They say that this translator has three good friends and they are referred to as the Three Musketeers - definitely not the Musketeers of Alexander Dumas!
These three guys have a habit of hitting the bottle out of the money earned by the Translator as they are in a position to pay him much more than the stipulated amount. While a sizable sum goes to the Translator's pocket, the rest goes to the boozing trio.
The Big question
Then there is another case about a certain umpire. This official is supposed to be an official of a leading club but somehow or the other managed to stand in when his club was playing a key three day game. It is said that this umpire has also played for this club some years back. The big question is, who or why was he nominated to be an official of this game?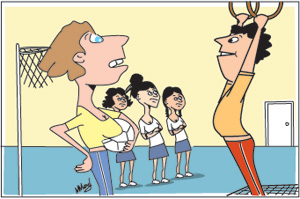 Smart move or what
A top coach from Down Under has volunteered to coach our lasses who are getting ready to participate in a contest right here in Colombo during August this year for the all girl championship.
These girls are training at an indoor stadium which is also used by some gymnasts. These gymnasts have a habit of doing their stunts right where the girls are practicing causing a lot of embarrassment to these girls. The coach from Down Under, who is coaching these girls for the sheer love she has for the game is now wondering whether it was a smart move to come all the way here to be treated like this.