The annual Sayuru Giri Lovers Quarrel between Devapathiraja MMV Rathgama and Sri Sumangala MMV Hikkaduwa is scheduled to be played on March 30 and 31 at the public ground in Rathgama.
This will be the eighth in the series which began in 1997 and from the seven matches that have been played so far only Sri Sumangala MMV has been able to secure a victory which they achieved in 1997 when the side was led by D.J. Kalupahana.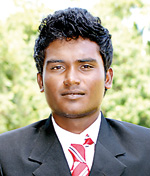 Nadeesha Sri Lal - Captain - Sri Sumangala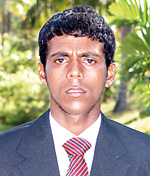 Tharindu Kaushal - Captain-Devapathiraja
The two teams play in the division three tournament and according to the performances of either side Devapathiraja MMV comes into the game as the hot favourites as they filed a strong outfit who capable of guiding them to their first win of the series.Devapthiraja MMV led by Tharindu Kaushal has played 12 matches this season and they have recorded seven outright wins against Debarawewa National School, Theraputta National School, All Saints MMV, Batemulla National Schools, Kegalu Vidyalaya, Madampa MMV and Sidhartha MMV Balapitiya while losing two to Karandeniya MMV and Royal College Panadura.
On the other hand Sri Sumangala MMV led by Nadeesha Sri Lal has played five matches securing outright wins in three matches against Aluthwala MV, Sidhartha MMV Balapitiya and Siridhamma MV Labuduwa.
Devapathiraja MMV posses all rounder players in the likes of skipper Tharindu who was a member of the successful Sri Lanka junior national team, deputy skipper Chathura Lakshan, Akila Iroshana, Dilshan Kanchana and Ramindu Nikeshala.
Tharindu will no doubt be the cynosure of all eyes as he has scored over 750 runs and taken over 95 wickets and the batting will revolve around Akila and Dilshan who both have scored over 500 runs and Ramindu. Chathura who has taken over 70 wickets will be one of their main bowlers along with Tharndu with Dilshan, Avishka Gimhana and Prasanna Karunawans to support them.
Sri Sumangala MMV though not been able to play much matches this season will depend on skipper Nadeesha and his deputy Priyankara Dinesh to deliver the goods along with Lakmal Ranga, Lahiru Udayanga and Iresh Chamara.The bowling will be spearheaded by Pramoth Chathuranga who is their top wicket taker this season and he will be looking for the support from skipper Nadeesha and Thusitha Chamara to curtail the strong Devapathiraja MMV batting.
The match will be followed by the limited over encounter which is due to be played on April 7 at the same venue. This will the third of the series and the two teams share one win each.