Former England hooker Phil Greening who took over the coaching assignment with the Sri Lanka Rugby team arrived in the country two weeks ago. Phil who is a level 3 coach, his record speaks for himself on the success story of his coaching career. He was the assistant Coach of the England outfit at the 2006 Commonwealth Games where they won the Silver medal at the shorter version of the oval shaped ball game.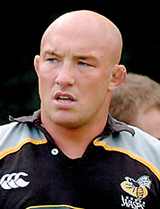 Phil Greening
He also remains as one of the successful England coaching staff when it comes to Hong Kong Sevens winning it on four occasions. He represented England in 27 Test matches. Phil Speaking to the Sunday Times at the players signing contract which took place three days back at Mount Lavinia Hotel said that he was happy with the outfit and only worry is one or two positions and selecting players to fill these positions.
The Boys are eager and fast learners. Any player's ultimate goal should be representing the country and wearing the national jersey. Further player education on the game and constant development is a must. He praised Asanga Seneviratne for his dedication and service for the local rugby saying that he got a plan and want Sri Lanka to be recognized by the Rugby World. He also went on to say that he wants to put Sri Lanka in the top three in Asia in his two year term as the coach.
He went on to say that he is looking forward for the local season. Further With the players contract signed by the Union more players should feel safe as they will be looked after on and off the field. He praised the local crowd and the media on their knowledge in rugby which is excellent in his words.
He ended by saying that he had watched the four games Sri Lanka played last year at the HSBC Asian Five Nations tournament and will iron out with the player's shortcomings. My top priority is to get Sri Lanka to Top Division in 2013 he said.
Meanwhile 37 players were given contracts by the SLRFU (Sri Lanka Rugby Football Union) for the Asian Five Nations Division I Tournament which will take place in Philippines. The final touring squad would be of 24 players. Sri Lanka will open the tournament with a game against Taipei (April 14) and then play Singapore (April 18) and end with the game against Hosts Philippines (21 April). Sri Lankan outfit will touch down in Hong Kong for two warm up games before the tournament kicks off in Manila.