While pledging that they would act perfectly to make sure the future of the 133-year-old hallowed history between Royal and S. Thomas' colleges, the school officials on Thursday (22) decided to amend last Saturday's result of the Mustang Trophy as a joint win. As a result S. Thomas' who won the game last weekend and Royal will share the Mustang Trophy until next year's encounter.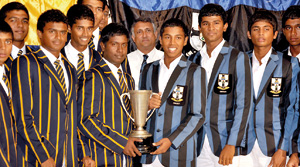 Royal and Thomian teams sharing the Mustang Trophy (Pic by Amila Prabodha)
Many were seen highly contented of the decision that both Royal and S. Thomas' officials came into after having lengthy discussions on the outcome which was deemed controversial by many including the victors last Saturday. After a miscalculation on the Duckworth/Lewis method the controversial decision gave the Thomians a massive 113-run win in the 37th Mustang Trophy last Saturday at the SSC.
In a joint press conference both principals, flanked by respective captains, Imal Liyanage of Royal and Sachin Peiris of S. Thomas', announced their decision at the SSC, the very same venue where confusion reigned five days ago. The 37th Mustang Trophy encounter was running smoothly until bad light and lightening cause a sudden halt at around 4.15pm on that particular day. Royal were well ahead of their target even in the Duckworth/Lewis calculation at 130-4 in 29 overs, chasing 239 for victory. The target was revised after an hour and twenty minutes of play was lost.
When play was halted briefly Royal were well ahead on par the Duckworth/Lewis method by two runs. After play resumed Royal were given staggering target of 129 runs to achieve in just six overs and they finished at 145-4, leaving the Thomians with a massive win by 113 runs. It was later revealed that the official appointed to calculate the revised target had admitted a mistake in feeding data which gave Royal a target of 259 runs in 35 overs whereas it should have been 179 runs in 35 overs. Apart from the principals of both institutions, officials and members of both teams were also present when both heads of institutions made their decisions, which were changed after long discussions.
"This year's Mustang Trophy cricket encounter was a historic one. Not only because, it was played as a match in the series between two schools that have historic and friendly ties, but also because it left behind many lessons for the community at large. It has now transpired there has been a grave mistake in the calculation of Duckworth/Lewis and had the accurate target was set it would have given Royal a fair chance of victory. Nevertheless, there has been a mistake and that mistake gave rise to a situation where one was declared winner and the other the looser. But if not for the mistake the result may well have been otherwise," Royal Principal, Mr. Upali Gunasekara said.
"Subsequently at a joint meeting, the Warden of S. Thomas' College, Professor Indra de Soysa, gracefully announced their decision. I have no doubt that the entire Royal fraternity will be unanimous in deeply appreciating this gesture of the Thomian fraternity, which has been taken in the true spirit of sportsmanship," he added.
S. Thomas' Warden, Professor Indra de Soysa speaking to the media said that the calculation mistake on setting up the revised target ultimately gave Royal a much larger run rate to win. He further said that the target would have been roughly eight runs per over, which is difficult, but not entirely unachievable. "The game could have gone either way. The fault associated with the mistake in calculation in no way lies with the schools but with an independent official from Sri Lanka Cricket authorised to calculate the Duckworth/Lewis method in Sri Lanka. Our opponents played hard and displayed a level of cricket that does not warrant a final decision based on a technical mistake. Neither it would be honourable for Thomian cricketers to carry a win on their shoulders that is now sullied by the bad fortune of worthy opponents.
Thus, in the spirit of sportsmanship that marks this noble game, we at S. Thomas' decided to share the trophy with Royal and declare the game a joint win," Professor de Soysa stated. Earlier on Thursday it was revealed that an official who was appointed to calculate the Duckworth/Lewis system had made an error while feeding data to the authenticated software used by Sri Lanka Cricket. It was also evident that coordination between the said official and umpires was not properly done. According to sources the official was twice given incomplete information and at the third and final time when correct information from the match officials was conveyed.
The official had made a blunder by entering the figures in the box that first innings scores should be fed. Later it was revealed that the officials had accepted that the gaffe has been from his end verbally, then in writing to the officials of both schools. Both heads of schools pledged that an official match referee will be appointed for future Royal-Thomian cricket encounters to make sure such mistakes would not occur in the future. However none of the officials were prepared to comment on the off-field occurrences which took place last week. Both heads of schools made an open statement to the media that they are much willing to answer any quaries pertaining to the concerned match and no other incident.