The official campaign leading to the International Cricket Council (ICC) World Twenty20 Championship 2012 kicked off yesterday with the ticket sale for the event at the Taj Samudra Hotel in Colombo.
Ticket sales for ICC World T20 2012 will begin tomorrow (26) at three centres in Sri Lanka, managed by Ticketmaster, a global event ticketing agent. The three centres are based at venue cities: Colombo, Pallakele and Hambantota. In Colombo, tickets can be bought at the Thurstan College Cricket Ground, while in Kandy tickets will be available at Kandy City Centre. In Hambantota, tickets will be on sale at No. 103 Tissa Road. "We have put in place a process to ensure transparency of the sales of tickets. Sri Lanka previously has hosted ICC events successfully.
The forthcoming ICC T20 World Championship will be the biggest cricketing event undertaken by Sri Lanka Cricket so far. SLC has streamlined the total logistics of this event to ensure that Sri Lankan cricket fans and fans from all over the world will have access to tickets without any hassle," advised Upali Dharmadasa, the President of SLC.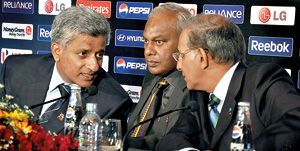 The three big guns SLC Secretary Nishantha Ranatunga (left), Upali Dharmadasa President SLC (center) and ICC CEO Haroon Logart (right) in an animated discussion. (Pic by Amila Prabodha)
However according to Dharmadasa, ticket sales will go global from March 30 as Sri Lankan cricket fans have been given a special grace period of four days by the ICC. From March 26 to 29 only Sri Lankan fans will have the special privilege of buying tickets in person from the three centres or online by visiting www.icc-cricket.com. Fans will have to produce mode of identification when buying tickets to ensure safety and legitimacy. Only 80 percent of the tickets will be on sale until August 1, in order to give opportunities to last minute buyers.
"For the T20 World championship we don't foresee any major challenges ahead. The infrastructure is already in place which was done for the ICC World Cup and that certainly makes life easier for staging this event. The experience and expertise is all available, so we can expect an event sans trouble. I will certainly look forward to September and October in spite of the fact that I may not be here in this particular role, I will be watching it with keen interest," said ICC chief Haroon Lorgat.
Tickets are priced from Sri Lankan rupees 55 to 4950 (US $ 0.50 to 45) and will vary according to categories. However a person will be allowed to purchase only six tickets under his identification through strict security scrutiny. In addition to three centres in Sri Lanka, local fans can buys tickets from 34 MoneyGram outlets available around the country.
"The ticket sales are a responsibility of the host nation but the ICC is certainly involved as it's a joint exercise. We are talking about hundreds of thousands of tickets here. This is a good opportunity for Sri Lankans to see a world event at an affordable price. So don't wait till the last moment because this is a world event and have confident that Sri Lanka will reach the final," Lorgat added.
The ICC World T20 2012, will kick off from September 18 to October 7 at Colombo, Pallekele and Hambantota with the participation of 12 teams. Simultaneously the Women's T20 Championship will be played among eight teams at the Galle International Stadium where the entire first round will be charge-free for spectators.