Athletics in Sri Lanka experienced a golden era during the late 1980s and with many working together as a team and saw the country win its Olympic medal in 2000. Since 1948 when Duncan White won a silver medal at 400m hurdles at the London Olympics until 2000 in Sydney, Australia where Susanthika Jayasinghe won a bronze in the 200 metres women's final, Sri Lanka faced different tides in the field of athletics. With the dawn of peace in March 2009, Sri Lanka with a diverse vision has begun to promote itself as a sporting destination. The pinnacle of its efforts in Sri Lanka's history was unveiled when the country made the bid to host the Commonwealth Games in 2018 at Hambantota. If Sri Lanka wins the bid to host the 2018 Games it will be a major boost as a country that is striving. But on the other hand the grand feat will befall a partly empty battle if Sri Lanka fails to win a substantial amount of medals which is customary in the games' history. Sri Lankan athletes completed an international assignment at Kobe, Japan recently with the completion of the Asian Athletics Championships but failed to achieve the set targets. Only two of the athletes won medals which by the process earned them wild card entries for the World Athletic Championships in Korea. Recent results indicate that Sri Lanka athletics has not had a healthy period. Now at present there are certain questions that need urgent answers. Our staff reporter NAUSHAD AMIT took time get the views of experts in athletics on the following: Is Sri Lanka ready to take the challenge at the forthcoming London Olympics 2012? What has the authorities done to put the country back on the map since Sri Lanka's only international medal hope retired after the Beijing Olympics in 2008? Why did Sri Lanka fail to maintain their glorious status internationally since 1991? And how can Sri Lanka overcome all these setbacks if it wins the bid to host the Commonwealth Games 2018?

Sunil Jayaweera (Former President AAASL and
Director General of Sports – Ministry of Education):
"We will have a greater responsibility as hosts of the Commonwealth Games 2018 if we win the bid. It has been a customary for the hosting country to win a considerably large amount of medals at any games, be it SAG, Asian or Commonwealth. But it's far too premature to predict of our hopefuls. Many of the senior athletes from present day will definitely be gone by 2018, which is seven years from now. Our only hope will be to see the potentials from the up and coming youngsters from schools. But I doubt weather Sri Lanka has a proper plan on that.
If we are to win medals at a big occasion like the Commonwealth Games, we will have to begin a massive programme from the grass root level. But in Sri Lanka we don't get that kind of programme; it's always the top level they focus on first and not the feeders. I was the Director General – Sports at the Ministry of Education from 1984 for more than a decade. During my period we were able to discover talented athletes like Susanthika Jayasinghe, Sugath Tillakaratne, Damayanthi Dharsha, Sriyantha Dissanayake and more from the schools.
They were given proper training and took part at many competitions before reaching the top. Many are of the view that by conducting competitions, talents could be discovered for the future. But I totally oppose that plan as there is only a part of talent that could come out from such events. The first three finishers of such competition might not be the talents we are looking for. What is needed here is to identify the potentials from the rural areas. More focus must be given to those who are talented and potential champions. Not those who win on circumstances.
Sports at school level should be improved than how they are at present. The times have changed and different systems must be implemented during a process which could begin from the school towards the national level. All stakeholders of the programme must follow a single vision and see that at the end they are result-oriented.
Talents cannot be brushed up within a matter of words or time; it's a massive programme. Creating 21 sports schools during my time at Ministry of Education was a result of that vision because it's apparent that the talents are well taken care of and brought up before they reach the national level.
Predictions can be made on the amount of medals we are hoping to win but the task is a massive project and implementation must be done the correct way. Those who work on this must have a vision and they should be practically improvising. It's a long process and lot of discussions will have to be done to make the predictions perceptible. All expertise should come under one wing and should not think of petty gains. Since it's a long term plan, even if top officials change over, the project should run as sustained.
Without a long term plan Sri Lanka will never be able to achieve the goal of winning medals. To be honest I don't even see any medal hopes at the London Olympics in 2012 with the present outset. Firstly we should start winning at regional level before focusing on bigger events such as the Asian, Commonwealth or Olympic Games. We must work on a six-year plan with a broader vision if we are to win medals in 2018.
In the recent times Sri Lanka did not have impressive performances other than two medals at Asian Games where leading countries like Japan, China and Korea did not field their best athletes. On the other hand Sri Lanka is not doing enough in terms of preparations and with the current outset it's very hard to see any medal hopes at the London Olympics.
During the 1980s and 90s Sri Lanka had talents which were potential for the future. I was the Director General of Sports at Ministry of Education and after discussions with the then Minister of Sports, Mr. S.B. Dissanayake, we came to an agreement that potential athletes and sportspersons from schools will be nurtured well. The plan was implemented with a vision and as a result we were able produce a number of medal winners at international level. Sri Lanka dominated at South Asian Games and won medals at Asian Games as our prime target was to win medals at World Championships and Olympics. We had a goal and Susanthika Jayasinghe winning an Olympic medal in 2002 was a result of the long term process. Sri Lanka needs such a long term plan."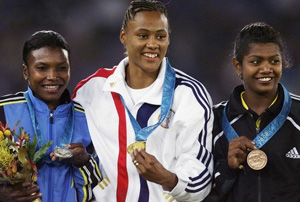 Is Sri Lanka ready to take up the coming challenges in athletics?
Maj. Gen. Palitha Fernando (President of
Amateur Athletics Association of Sri Lanka):
"It's very difficult to predict on any medal hopes at London Olympics 2012 with the present situation. We have taken steps to improve the standards but it's very difficult to enjoy results during a short phase. Susanthika Jayasinghe won an Olympic medal in 2002 after 1948. Susanthika was a rare find and we as officials worked with a vision for a long duration to train her and other athletes to convert them into potential international competitors. Today we have the quantity but the quality is not that impressive. As during that era we will have to begin from the first; from SAG to Asian and Commonwealth. Then we will be able to think of winning medals at World Championships and Olympics. It's a step by step process and it will take time to produce results. In the near future we don't see such talent except for a few who need more exposure."
G.L.S. Perera (Gen. Sec. of Amateur Athletics Association of Sri Lanka)
"After Sri Lanka won a gold medal at 4x400m at Asian Games 1974 in Tehran we did not see any medal winners for the next 12 years. The 1991 South Asian Games was a great boost for Sri Lanka where we outsmarted India in track and field events. We won 16 gold medals where as India won 14 and it was more or less a turning point for athletics in Sri Lanka.
Sri Lanka had a long term vision before fielding our athletes for the SAG in 1991 and the hard work by the athletes and officials paid dividends. Then came the generation of Susanthika, Dharsha, Sugath Tillakaratne and so on. Today athletes like Shehan Ambepitiya has emerged. It's like a circle; there are ups and downs.
Sri Lanka could win back the status as a dominant force in the South Asian and the Asian regions with the present plan. The Amateur Athletics Association has improvised a four-year plan focusing on the younger talents and the medal prospects for the near future. The Ministry of Sports has appointed a coaching director and a chief coach. But unfortunately Sri Lanka does not possess a performance monitoring system which is a key component of the whole project. After a long lapse a strong foundation was laid recently and we hope all will rally around to make this project effective.
Before predicting on our medal hopes at the London Olympics 2012, firstly we'll have to see the athletes who will qualify. In the recent times Sri Lanka found two such potentials in Sonali Merrill and Chaminda Wijekoon. Both of them won medals at Asian Games which qualifies them for wild card entries at World Championships. But at Olympic level it's very hard to hope for any medals.
Sri Lanka will have a very good opportunity in our bid to host the Commonwealth Games 2018 when we host the Asian Junior Games in 2012. It will give us a first hand experience on how to host a massive event like the Commonwealth Games and also as the hosting nation we will be able to see our youngsters, who will potentially compete in 2018 perform. These youngsters could be trained with a long vision and yes; there is a big chance of wining more medals in 2018 if the project is handled with care."
Prema Pinnawela (Sr. Vice President of Amateur
Athletics Association of Sri Lanka):
"During the earlier days the Ministry of Sports had a vision. Coaches and potential athletes then received overseas training. As the Minister of Sports then, Mr. S.B. Dissanayake had a long term vision which many didn't believe in. However this long term plan started giving Sri Lanka results from 1991 and it continued for the next decade. The athletes then were well taken care of with the support of the government. But today Sri Lanka lacks such practices. Had this mode continued without interruption, today Sri Lanka could have maintained the dominance tag in the South Asian and Asian regions. It's not the fault of the ministers who come and go but of the lack of effective principles in agenda. With this backdrop it's very hard to predict if Sri Lanka could hope of a medal at London Olympics in 2012. But we have had two potential talents in Sonali Merrill and Chaminda Wijekoon who won medals at the recent Asian Games in Kobe, Japan. Both of them were trained overseas and it shows that we need to upgrade our present coaching system too. At the same time they received due exposure which is far more important.
Today schools are no more feeders to the national stream in athletics, unlike the 1980s and 90s where the schools and both ministries of education and sports worked hand in hand. Presently the lifestyles of students have changed drastically and it's a major setback from the country's perspective. The system is not effective enough today to secure the talented students' future unlike then. The officials are seen working hard to put things back on track but it will take time to produce results.
Sri Lanka's plan in winning more medals at Commonwealth Games 2018 can become a reality if we implement a long term vision. Focus must be more on the youngsters who are of ages between 13 and 19. To achieve good results all involved in this process including the parents of the athletes should work hand in hand with officials. They (officials) must ensure the athletes and coaches are well taken care of. The present Minister of Sports has a vision to develop a complete sporting complex for each district. But it will be a hard target to achieve within a short phase with the present surroundings. But this project can begin from each province so athletes from the nearby areas could enjoy the up-to-date facilities.
Nowadays athletics is not a massive crowd puller as cricket and rugby. In cricket and rugby there are huge demands which are potentially met. But in athletics it's a different story. The marketing component in sports has managed to take athletics to an amazing level in other countries. But in Sri Lanka a lot has to be done to reach that status. If all these elements come into place Sri Lankan athletics can be at a competitive level where both the country and the sport could be the ultimate achievers."