Sri Lanka's pace ace Lasith Malinga may come out of retirement to be a part of the Lankan line-up for the second Test against Australia which is scheduled to begin at the Pallekelle Stadium on September 8, it is reliably understood.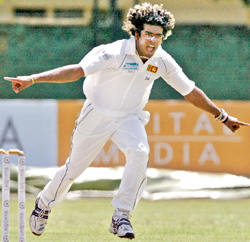 Lasith Malinga
A high official of the SLC administration told the Sunday Times:"We have made a request from Malinga to consider coming out of retirement and be a part of the line-up for the second Test at Pallekelle and he still has not responded to our request, but he was not unfavourable to it either. We are keeping our fingers crossed."
Prior to his retirement from Test cricket owing to his leg injury, Malinga featured in 30 Test matches capturing 101 wickets with a best of 5 for 50. Even Sri Lanka's last Test win against India on July 22 last year was a memorable one for Malinga, which incidentally was Murali's farewell match.
While Murali bagged eight wickets and completed his 800th wicket in his farewell game, Malinga who had his best figures of 5 for 50 ended up with a match bag of 7 for 110 and also scored 64 runs in Sri Lanka's first innings total of 520.
Malinga was Sri Lanka's most successful bowler in the just concluded ODI series against Australia. He topped the series bowling, capturing the biggest haul, 11, at an impressive average of 11.45. He also became the first bowler to take three ODI hat-tricks.
So it came as no big surprise when the Australian captain Michael Clarke in his post-match interview after the fifth ODI said he was thankful that his team would not have to cope with Malinga's sling action and accurate yorkers in the Tests. "He is an excellent bowler," Clarke said. "He's got an excellent yorker and an equally good slower ball. I am glad that he is not playing us in the Test series."
Meanwhile Rumesh Ratnayake who took the interim position as Sri Lanka national coach only for their engagement against Australia is not available for the country on a long term assignment as the Asian Cricket Council needs his services and is not willing to release him.
However, the candidature of former South African coach Graham Ford also seems to be a very popular one, with most of the senior members of the team backing the nomination. An SLC insider said, "It is a good move. All this while we were used to the Australian way of doing things and this may be a good alternative because next to Australia, South Africa play a very good brand of cricket"