The 28th Annual Royal-Thomian (UK) cricket match played between teams from the Old Royalists Association (UK) and Old Thomians Association (UK) took place on a sunny afternoon at the Kent County Cricket Ground, Beckenham, Kent on Sunday August 21.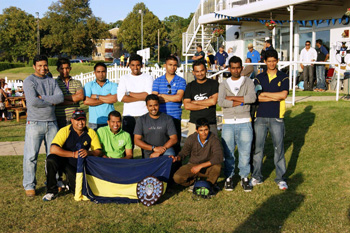 The Royal team which won the Ameresekere Shield at the Kent County Cricket Grounds..
Old Royalists captained by Gayan Ranasinghe won the toss and chose to bat. After an early loss Asanka Ediriweera (34runs) and Dulith Weeraratne (59runs) built up a steady partnership. Nirosha Wijenayake (24), Heshan Morawaka (15), Sashimal Edirisinghe (15) and Gayan Ranasinghe (15 not out) also contributed to a total of 190 for 7 wickets in 40 overs. For the Old Thomians, Skipper Shamil Mendis had their best bowling figures of 3 for 26.
Old Thomians in reply began well but their progress was curtailed by some accurate seam bowling by pacemen Gopinath Navaratnam and Gayan Ranasinghe. A patient 38 by skipper Shamil Mendis and a whirlwind 35 by Divahar Ramalingam kept the Thomians on the right track. But a classic spell of left arm leg spin bowling by Heshan Morawaka rattled the opposition. The Thomians were defeated in a nail biting finish when they were all out for 186 in 39.3 overs.
Old Royalists: Gayan Ranasinghe (C), Asanka Ediriweera (VC), Dulith Weeraratne, Heshan Morawaka, Gopinath Navaratnam, Indunil Abeywickrama, Pasindu Chamikara, Rangana Rajapakse, Nirosha Wijenayake, Shashimal Edirisinghe, Gihan Premachandra.
Old Thomians: Shamil Mendis (C), Divaharan Ramalingam (VC), Sanjeewa Dandeniya, Siva Sivaranjan, Sharm Gunawardena, Asanka Weeratunge, Bathiya Karunaratne, Hasula Prematilake, Ishantha Dassanayake, Kasun Bamunuarachchi, Nilesh Setunga
Man of the match was Heshan Morawaka for his bowling figures of 5 for 26.
Old Royalists were the proud winners of the Ameresekere Tropy.
Over 40's T20 Match
In the over 40's match that followed Old Royalists captained by Gopi Kandiah totalled 119 for 4 in 18 overs. Ramesh de Silva -36 n/o, Shirley Jeyarajah – 29, and Navin Samarakone – 15 scored well for Royal. Sanjeeva Dandeniya and Michael Arnold captured 2 wickets each for the Thomians.
Old Thomians in return were 98 all out. Sanjeeva Dandeniya – 24,Vijay Sivalingam – 19 and David Ponniah - 13 scored for the Thomians. Deutram Thambapillai and Ramesh de Silva took 2 wickets each for the Royalists.
Old Royalists carried away the Warden De Alwis Trophy for the 8th successive year.
Ramesh de Silva was Man of the Match.