The countdown for the inaugural Beach Games among the countries of the South Asian region was launched last week at the main auditorium of the National Olympic Committee. The first ever South Asian Beach Games (SABG) is scheduled to be held between October 8 and 14 in Hambantota, the proposed venue for the Commonwealth Games in 2018.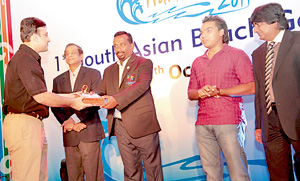 Sports Minister, Mahindananda Aluthgamage presents an official document to a foriegn representatitive.
Eight countries which includes Afghanistan, Bangladesh, Bhutan, India, Maldives, Nepal, Pakistan and hosts Sri Lanka will compete at the games. The competitors from these countries will sport out in beach versions of basketball, volleyball, netball, football, kabbadi, marathon, handball, bodybuilding and equestrian events. The Beach Games will also include swimming, sailing, life-saving and triathlon events.
As a prelude to this big event, Sri Lanka held its domestic version of Beach Games yesterday at Negombo Beach Park where 35 teams competed in volleyball, netball and handball. Before the inauguration of the domestic Beach Sports Festival, the NOC chairman, Hemasiri Fernando, pointed out an important fact.
According to Fernando's statement during the press briefing, the Central Bank Governor, Cabral who plays a vital role in promoting the bid to host the Commonwealth Games (CWG) 2018 in Hambantota, has only approved one fourth of the estimated budget for the Asian Beach Games.
"The success of the SABG will play a major impact in our bid to host the CWG 2018 in Hambantota. However the committee received only a quarter of the total amount from the estimated total budget. We are hosting seven countries at SABG and if our efforts get stained by a slight mishap, its pros and cons will be counted highly on our bid for the CWG 2018," he said.