There is a long- long way for us to go,
Before this tug of war can ever end,
When that day will be I don't know,
Master Sir! When can I call you friend?
I read that there has been only 14 players turning out for practices to select the team that went to Shanghai for the first of the HSBC sevens series. This meant that twelve had to be picked from the fourteen that turned up for practice. Does this mean that there is no interest to play for the country? At least they should have been interested in taking the trip as a joy ride. Thereafter there is the Borneo sevens where Sri Lanka was bowl champions last year. What will be the fate if the attendance at practice remains the same?
With time spent on sorting irritants and tending to a never ending beggars wound there is less time for planning the future of the game. This can be seen as the bane of rugby as more and more seek succor of the court system That is why I remembered the lyrics of the popular "Master Sir "which is a classic Sinhala song written by Nimal Mendis and sung by Neville Fernando. Will it take time for the tug of war to end? Will that day ever come? Unless and until that day comes it may not be possible to know what holds for the future of rugby in Sri Lanka. When you look at the composition of the Sevens team there is No Kandy and no CR. Then does it matter as we have taken wing.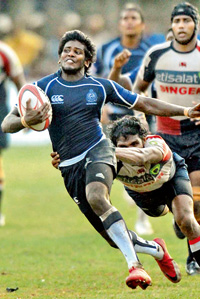 Action from the famous Navy-Kandy clash this year.
What takes time in Rugby is more of legal issues and technicalities while the bigger picture is not seen as the tug a war continues. If noting else, one can find fault with the referee. Kandy had its day when they played Hettiaratchi defying the directive of rugby's governing body. Navy had its day when they did not release Hettiaratchi and sort the intervention of courts in this as well as other matters. Navy eventually released the player and withdrew the court case that stayed the award of points to Kandy as their team included a player whose status was in question. Then it was the day for the Governing body to award or not the points and or to disqualify Kandy for going against the directive. This time it was Kandy that sought refuge in courts to stop the cup being awarded to any, other than themselves.
The decision taken at present to not award points to Kandy is perhaps a good decision. It gives Kandy the cup as they have a clear lead. It is an amicable punishment. However it is a deterrent to others who may go against the master and may not have a clear lead. The condition however is that Kandy must withdraw the court case. Hopefully this too will happen and the knock outs will take place. It hopefully will lead to more at practice and a better sevens team for Borneo. Oh!! The, tug-a-war.
When you look at the staggering 500 matches played up to August it does make you numb when you try to reconcile why there were only fourteen players at practice for the sevens. These include various youth take the various inter-unit tournaments, Clubs A, B, C games as well as Schools Division 1 as well as lower age group matches. This is without the junior schools games played before the big game and not counting the schools inter house matches. This is a lot of rugby in an eight month period. That is around 60 matches a month as an average. The information can be confirmed if you check the referee appointment details. If you set an allowance for the schools division 2 and 3 and Club C division matches that have been cancelled still there are over 400 matches. This means that close to 100 teams play rugby and that works to about 2000 players engaged in playing rugby in Sri Lanka at senior level. Then what happens to all these numbers who seem to love this game.
It is that tug a war that never ends that has kept the game apart from where it should have been. It was if you pinch me I will pinch you syndrome in the past. Today it seems to be if you pinch me I will punch you in return.
There is a long – long way to go despite the distance being short to get where we have to get. Master,-Sirs it is up to you to see that the day dawns for the tug a war to end. It is not about the ten cents which was promised that will give a morsel of bread but the heart that will bring us together that important.
All aboard!!! The train is about to leave.
Vimal Perera is a former Rugby Referee, coach and Accredited Referees Evaluator IRB