Be prepared for a shock that is bigger than the one you are certain to get when you see this month's electricity bill. Many traders seem to have no qualms about passing to the consumer the additional cost they will incur as a result of the eight percent hike in electricity tariffs from this month.
Even people who use fewer than 120 units of electricity and thus spared the eight percent electricity tariff hike will have to spend more for their food, clothes and household items. We met some business people, including those who own or manage groceries, pharmacies, supermarkets, clothing stores and tailoring shops. Many of them said they would be forced to pass the increase in the cost to consumers while a few, exercising caution, said a price increase may affect their sales and therefore, they would decide later or implement cost-cutting measures.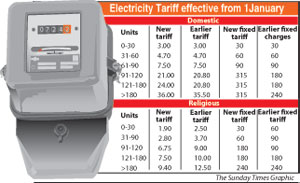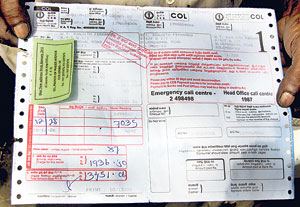 A Colombo resident who consumes less than 120 units showing his electricity bill. Pix by Athula Devapriya
Grocer Wasantha Amarasinghe from Wattala said the deep freezer in his shop was an electricity guzzler and therefore he had no option but to increase the prices of some of the items he sold.
However, he said he would have to do it in a manner that would not drive his customers to another shop Wellawatte's Bay Leaves restaurant Manager L.C.K Paktsun said the new electricity bill would affect the business and eat into the income.
"People in the restaurant industry cannot keep the air condition machines and freezers off. We are sure to be affected," he said indicating that the management might revise the prices on the menu card.
Similar sentiments were expressed by Pizza Hut Operations Head Nilu Fonseka. He said that on an average a branch outlet, which was equipped with air condition units and electric kitchen items, consumed 12,000 units of electricity and tariff hike would be biting.
The rise in electricity comes as a bitter pill for a small-time pharmacy dealer at Armour Street. He declined to give his name but said he consumed around 700 units of electricity every month and the little profit he earned would be affected.
"Just because the electricity charges rise, we cannot increase the price of medicine. We will be affected," he said. A communications centre manager, R. Nimalraj, said just because they had to pay more for the nearly 270 units of electricity they consumed a month, they could not increase the call charges. "We are the losers," he said.
Tailor shop owner Mohammed Farween from Colombo's Messenger Street, said his business which he ran with five Juki machines depended on electricity but he was now more determined to conserve electricity and to keep his bill at a manageable level. We also spoke to a cross section of Colombo's households.
M.M Nawaz from Blomendhal said he would not be affected as he used less than 120 units a month but housewife S. Ratnavel looked worried. She said as a middle class housewife, she was finding it difficult to cope with the rising cost of living and the electricity tariff hike had only aggravated their plight.
"We use an iron, fans, a refrigerator, a blender and a TV set. We cannot keep our bill within the 120 unit limit," she said.
Prince Ratnam from Kotahena said he believed the government should again revise the decision and set a higher ceiling for the tariff increase. He was referring to this week's government's decision to place the tariff-increase point at 120 units instead of 90 units as decided earlier by the Power and Energy Ministry.
However, many believe that prices that go up rarely come down although the Public Utilities Commission of Sri Lanka (PUCSL) has said it would review the situation and revise the tariff structure.
The PUCSL said the increases were necessary to minimize the losses made by the Ceylon Electricity Board and help electricity suppliers to the national grid to break even at least by 2015.