At least 250 cases of traffic offences and detection of wanted persons were made via Closed Circuit TV (CCTV) cameras in the Colombo city and its suburbs on the eve of the New Year, Senior Deputy Inspector General Gamini Nawaratna said yesterday.
He said the relevant video clips had been sent to the City Traffic Police which would file action against the offenders in courts. The Senior DIG said the minimum fine usually imposed on the offender would be Rs. 1000, double the current minimum fine of Rs. 500 imposed when an offender was issued a ticket for a spot fine by a police officer. A Magistrate is permitted to impose an enhanced fine.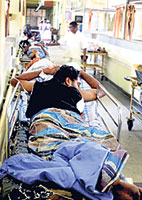 New Year's eve accident victims at National Hospital. Pic. by Nilan
He said the majority of the offenders had violated the traffic light regulations while there were others who had parked in no parking zones and crossed traffic lines.
DIG Nawaratne said wanted persons had also been picked up after studying the images via CCTV cameras which were installed in several parts of the city on Wednesday. (See detailed story on Page 13)
Meanwhile, more than 320 people were admitted to the National Hospital in Colombo on New Year's eve with most of them being victims of road accidents.
A spokesperson for the National Hospital said there were three deaths caused by road accidents while 65 accident victims were admitted for treatment. There were 43 persons who were admitted with injuries caused in domestic violence while another 38 victims suffered injuries from falls.
There were 11 cases of firecracker victims being admitted to hospital, a marked decrease compared to previous years.