A twenty-year-old was heading to a friend's house in Biyagama on his motor cycle after work. Soon he was distracted by the ringing of his mobile phone. He reached into his pocket and with one hand answered the call, while manoeuvering the motor cycle with the other. Moments later, Madhushanka Jayatillake crashed into a tree. He died on the spot.
This is just one incident among a string of others that highlight the frightening reality that answering a mobile while driving a vehicle could mean instant death. Similar incidents have been reported from Katunayaka and Seeduwa.
The tree that Madhushanka crashed into and right his
damaged bike. Pix by Saman Kariyawasam
Last month a vehicle overturned in Homagama and the driver died. According to eye witnesses the driver was on a mobile phone call when the tragedy occurred. In Seeduwa a couple and their son died in an accident while returning home. The father who was driving the car had been on the phone, while crossing the railway track and had not heard the oncoming train. The vehicle was dragged for some distance.
In another incident a family met with a tragic end near the Katunayake High School. In this instance too the father was on the phone when the accident occurred, killing himself, his wife, his mother and the two daughters.
In the case of Madhushanka, Biyagama police said according to investigations, the combination of high-speed driving and the distraction of answering the mobile phone had led to the tragedy. An eye witness to the accident, A. Jayasiri said that Madushanka's mobile sim was found among the smashed up remnants of the phone and when it was inserted to another phone, a message was delivered asking, "What happened to you?"
"When we called that number, a girl answered. She said she was talking to Madushanka when suddenly the connection went off." Madushanka had been working at the Coca Cola factory in Biyagama for two years at the main accounts section.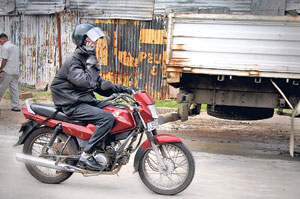 Inviting death? A motor bike rider on the mobile phone
"He and I were planning to go home, to Galewela, for the Christmas vacation. He died even before he reached hospital. I was told that his last words were, 'please call aiya and tell him,'" S. Sanjeewa, a relative said.
Madushanka's parents yesterday made a fervent appeal to motorists and motorcycle riders not to use their phones while driving or riding. The parents Jayathilaka Banda, and S.M.Kamalawathi from Aluthwewa, Galewela told the Sunday Times that they lost their 20- year-old son to a telephone call he had unfortunately answered.
"You see many young people on the mobile . As a result so many lives are lost. Police should take action against those people for their own safety," Mr. Jayatillake said. "I hope others will learn a lesson from what happened to my son. I struggled as a farmer to bring him up and I was unfortunate to have to carry his coffin. If he had not used his mobile while riding his motor cycle he would have still been among us," he lamented.
"My appeal for the new year is, please, please do not use mobile phones while driving or riding. This will protect you and others on the road," he added. Madhushanka's grief stricken mother said she had advised him regularly to refrain from using the mobile phone when riding the motor cycle.
"On the day he was killed he called me at about 8.30 p.m. and said he was going to a friend's place. But that night we received a call that he had met with an accident while riding the motorcycle. When we went to the hospital he was already dead," she said.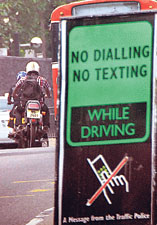 A warning sign to drivers
According to law, both hands of the driver should be on the wheel, except when operating the gears, hand brake or using hand signals. Coroner Edmund Ahangama said sometimes accidents occur when drivers are distracted by the huge hoardings on the sides of the roads, especially near traffic lights. "Any lack of concentration can lead to a decrease in road safety measures," he warned. He said the same occurs when drivers fall asleep at the wheel after drinking.
He said on December 29, two siblings died in an accident in Alawwa. They had returned from Jaffna at 3.30 a.m and left home at 6.30 a.m. to get to office by 9 a.m. in Colombo. The boy who was driving the vehicle was a software engineer while his sister was a chartered accountant. The vehicle had skidded on to the wrong side of the road and had hit a bus coming from the opposite direction.
Meanwhile, police have stepped up efforts to crack down on people using mobile phones while driving. Biyagama police said more than 200 cases were reported within the last quarter of 2010-and Ragama police said 30 cases had been reported in December.