The night of December 31st – traditionally a time of good cheer and celebrations – turned into a hideous nightmare for a group of 29 persons travelling from Kataragama to Vavuniya when they were threatened, abused and assaulted by a couple of drunks and their friends.
The party – all employees attached to the Vavuniya bus depot – had gone to Kataragama to have a specially built bus blessed. According to Iqbal Awas, one of the victims, the trouble began when the bus stopped in Buttala for a tea break.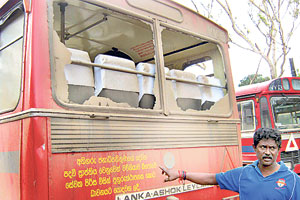 Vavuniya depot bus that was smashed.
"A colleague and I were chatting in Tamil when a couple of drunks came up to us and accused us of being LTTE sympathisers. They then started to assault us," Mr. Awas said. "The men also smashed glass windowpanes in the bus. At this point, the other bus depot employees overpowered the troublemakers and handed them over to the local police."
But more trouble was to come. "After the bus hit the road again, I noticed that we were being followed by a three-wheeler and a van," Mr. Awas said. "Both vehicles shot ahead of the bus and blocked our way, forcing the bus to stop. The occupants of the vehicles then got out and started to threaten us with broken bottles and clubs. They were demanding that we get their friends released from police custody. They said they would kill us and burn down the bus if we didn't do as we were told."
Saying that, the hostile persons removed the fire extinguisher installed inside the bus. According to S. K. P. Swarnajith, one of the assault victims, the team from Vavuniya – comprising 18 Tamils, nine Sinhalese, and two Muslims – pleaded with the men to let them go, "but they wouldn't listen."
The row was finally settled when the Sinhalese members of the bus depot group intervened on behalf of the Tamil-speaking members.
Thanking his Sinhala-speaking colleagues for helping out in the crisis, Mr. Thirunyanes, another assault victim, said Tamil-speaking persons should be protected from intimidation if there is to be harmony and goodwill among communities.