At least two were killed, and seven injured and nearly 400, 000 people affected, as the raging North-Eastern monsoon swept through several districts in the north east and elsewhere with officials warning of more wet weather in the new year.
The two deaths were reported from Eravurpattu and Manmunai north in the eastern Batticaloa district while those affected were from the districts of Killinochchi, Mullaitivu, Ampara, Polonnaruwa, Ratnapura, Trincomalee, Kandy, Nuwara Eliya, Batticaloa and Anuradhapura, Pradeep Koddipilli of the Disaster Management Centre said.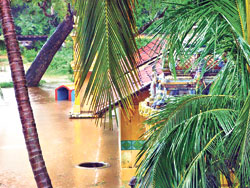 Scenes from Pattinipuram in Trincomalee
Further more some 4231 families or 161,000 plus persons have been displaced and are currently being housed at 25 welfare centres set up in the rain-hit districts and relevant authorities are providing them with dry rations and other essential items, he said.
The wet weather, accompanied by gale-force winds has damaged some 5,000 houses and fully destroyed some 1437 abodes, Mr. Koddippili added. The displaced are being sheltered in schools, places of religious worship, community halls and other state buildings, he said.
Mr. Koddippili said 12 sluice gates were also opened from an equal number of reservoirs to prevent more damage as the waters rose to spill level and threatened to inundate thousands of homes and agriculture crops, he said.
"We are monitoring the situation closely and arrangements are on hand to meet any eventuality since the rains are continuing in almost all the affected areas. The number of those affected and displaced are expected to increase in the coming days," he said.
The worst affected districts are Batticaloa and Trincomalee in the east and Killinochchi in the north with some 350, 000 people affected, he added. Meanwhile officials with the Department of Meteorology told the Sunday Times that heavy showers accompanied by thunder will continue to lash the affected areas as the monsoon heightens within the next few days. Thundershowers along with strong winds will also be experienced in Colombo and other parts of the country he added.
The inclement weather has also ruined crops in several parts of the country sending prices of vegetables sky high, a senior official at the Economic Trade Centre in Dambulla said. The Centre's Manager, Christy Perera told the Sunday Times that onions were the most affected crop because they rotted easily unlike other vegetables.
"The wholesale price of onions and green chillies at the Centre was in the range of Rs. 200 a kilo yesterday. This trend is likely to remain for several more weeks," he warned.