Cast iron nuts or clips that are meant to fasten the steel rails firmly to the sleepers on the track bed, allowing trains to move fast are either decayed or missing, while some sleepers are themselves decayed, posing a grave risk to commuters who travel daily in trains.
Commuters say they fear a derailment posing a threat to their lives. R. Rajakaruna who commutes daily from Galle to Colombo, said "Our trains are regularly late as there are speed restrictions due to these deficiencies."
Commuters say trains passing one such location at Telwatte, just a few kilometres from Galle, move at slow speeds, sometimes at ten kilometres per hour.
This is whilst the Railway Department has just completed a new track to allow trains to travel at 100 kilometres per hour on the Galle-Matara line. However, Vijaya Samarasinghe, Director Planning at Sri Lanka Railways says "there is no immediate need to replace the decayed sleepers or the missing nuts."
He told the Sunday Times "though some nuts are missing the track itself has been balanced to ensure there is no danger."
However, he said "we are also in the process of replacing some of the wooden sleepers with concrete ones. Some of them will be replaced soon." He said an innovation to use a part of a sleeper instead of a full one was also under consideration.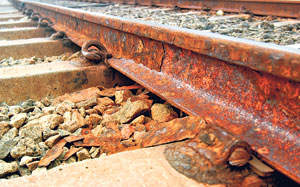 Portion of the track at Kollupitiya showing a cast iron clip missing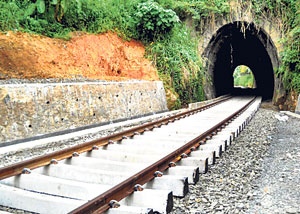 Galle Matara new track