Wesley, S. Thomas' and Nalanda triumph at TT
Wesley made a clean 3-0 sweep over Nalanda in the Finals of the Under 12 Invitad Schools Table Tennis final at the S. Thomas' College Indoor Stadium. The competition was conducted by the Table Tennis Union of Ananda Sastralaya.
Wesley College U-12 champions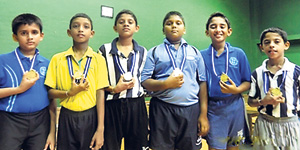 From left: Oshan Punchihewa, Sandesh Nissanka,
Ashen Wijeratne, Lithmina Mahanama (Captain), Amre Faleel, Matheesha Wijeratne
In the first Singles Lithmina Mahanama of Wesley overcame Milan of Nalanda 11-2, 11-4 and in the next Singles clash Sandesh Nissanka of Wesley beat Nalanda's Anjana 11-5, 11-3. In the third Singles outing Ashen Wijeratne beat Iddamalgoda of Nalanda 11-5, 11-6.
In the Under 16 encounter S. Thomas' Mt. Lavinia beat Vidura College convincingly. The results: 1st Singles: Hannibal (STC) lost to Manula of Vidura 14-16, 7-11; 2nd Singles: Yehan (STC) beat Malaka (Vidura) 11-8, 11-13, 11-6; 3rd Singles: Tharaka (STC) beat Aruna (Vidura) 11-4, 11-8.
1st Doubles: Yehan and Hannibal (STC) beat Rasitha and Kumal (Vidura) 11-3, 11-5; 2nd Doubles: Taraka and Devinda (STC) beat Aruna and Ishan (Vidura) 11-4, 11-8.
In an Under 14 match Nalanda beat St. John's Nugegoda 2-1. Results: 1st Singles: Nimash of Nalanda beat Kavindu (St. John's Nugegoda) 9-11, 13-11, 11-3; 2nd Singles: Kusmika (Nalanda) beat Mohanjith (St. John's) 11-3, 11-5; 3rd Singles: Yasas of Nalanda lost to Himesha of St. John's 6-11, 6-11; 1st Doubles: Kummika and Nimesh of Nalanda beat Kavindu and Laksitha of St. Johns 9-11, 11-9, 11-8; 2nd Doubles: Yasas and Ravindu (Nalanda) lost to Mohanjith and Himesha (St. John's) 11-7, 6-11, 3-11