M2 is a brand new organization, which seeks to bring the benefits to clients through corporate partnerships. M2 is set to revolutionize the industry by bringing up a common platform for the Corporate to access each other through partnerships that promises mutual benefits. M2, Maestro Minds is the Next Generation Community that we wish to empower with Sri Lankans. M2 is open for the whole of the student population in Sri Lanka starting off with the IDM Family. M2 will provide members with the opportunity to learn, earn, partner and share in a common corporate platform. The requirement for such a network was felt to be long due, but was shelved owing to the negative socio economic climate in Sri Lanka because of three decades of war against terrorism.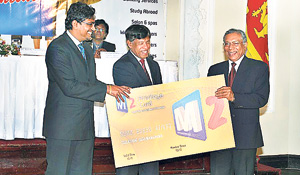 With peace settling in, the Management Team of M2 came up with a revolutionized concept to bring the students and the business community to a common platform. As the students of today will be the leaders of tomorrow, M2 will create the ideal opportunity to groom the future Sri Lankans to be Corporate leaders. Having felt this need that we at M2 think tank will be continuously researching and developing a whole range of innovative tools along with a host of experts handpicked consisting academics, professionals and business magnates locally and internationally.
As a stepping stone towards achieving ultimate M2 objective, it launched the revolutionary M2 Privilege card on the unique day of 10.10.2010 at 10.10 hrs. Lessons learned by local and international privilege card networks, M2 takes the concept of privilege cards to a whole new dimension by providing the merchants and the cardholder a distinctive experience. Offering a range of value-added benefits and amazing privileges, the M2 Privilege Card gives cardholders the lifestyle they deserve! The groundbreaking M2 card allows access to a network of elite partners, opening up a new world of existing privileges. As a member of the exclusive M2 network, you are entitled to special recognition, advantages and benefits from a variety of renowned M2 corporate partners.
M2 presently offers 3 types of privilege cards to the prospective M2 cardholder, whereas each card carries different levels of privileges from the M2 merchants. Privileges ranging from Gyms & Fitness Equipments to Clothing Stores, from Book Depots to Banking & Financial services are on offer. The distinct advantage of M2 card is, it carries an insurance protection cover for the cardholder from a globally acclaimed insurance giant. We believe that this protection cover will immensely benefit the students.
The next prime objective of M2 setup is to generate traffic to our M2 partner merchants. Also we at M2 is committed in marketing, promoting, creating brand awareness thereby putting their businesses into a fast track to support in order to contribute towards the country's development drive. We believe the anticipated development of the M2 cardholders standing at 25,000 by the end of 2010 will immensely contribute towards the national cause.
With major expansions planned for 2011/12 which includes increasing the number of merchants nationally and regionally and also to reach at least a quarter of a student population in Sri Lanka, M2 promises to be the Key to Endless Potential! - www.maestrominds.com