Asian International School (AIS) is an educational institution which constantly stresses on the merits of enjoying a sport; sternly deriding cut throat competition and never forcing extracurricular activities onto its students. Yet in spite of, or rather because of this, the school has reaped enormous success in a multitude of sports, from Swimming and Basketball to Tennis and Rowing.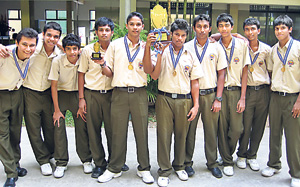 Bdminton boys team
This is indeed astonishing considering the fact that just about ten years ago the only sport that existed in the school was swimming. However the previous footnote does provide ample evidence in support of why the school has been such a dominant force in that sport over the years.
This dominance includes a still ongoing ten year stretch during which AIS has swept the Inter-International Schools Swimming Meet, as well as victories in the numerous other yearly meets such as the Junior National Championships and the School Games.
Some of their star pupils at these events include Commonwealth Games swimmer Mathew Abeysinghe, SAAF Games participant Mineka Karunaratne, Ali Isphahani, Madhavi Dharmadasa, Sherran Rajapakse and Dillon Abeysinghe.
However AIS does not regard itself as a one trick pony and its recent victory in the finals of the Under 17 International Schools Basketball Championship gives this assertion added weight. One of the school's students, Madhumitha Ravi, also clinched the Most Valuable Player prize at this tournament.
The school's basketball has also been bolstered in past years by the procurement of both the Under 19 and Under 17 Inter-International School titles, along with many top three finishes at National and International school competitions.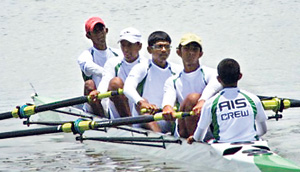 Rowing team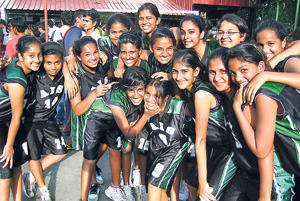 Under 17 Basketball girls champions
Tennis is another sport in which AIS has catapulted itself into supremacy, calmly bagging the Inter-International Schools Championship during the past four consecutive years and producing the likes of Nilupul Gunasekera, Eshan Jayamanne and Sri Lankan Davis Cup member Amrit Rupasinghe.
In another racquet sport, Squash, AIS also boasts of the All Island Under 9 Champion Thihan de Silva. Their football programme, although only a year old, already yielded a positive result when the school reached the quarterfinals of the recently concluded Royal Institute Football Challenge.
The school can also be categorized as a trailblazer amongst most International Schools, literally venturing into unchartered waters when it decided to introduce rowing to its list of extracurricular activities. This boldness bore immediate fruit when the team secured a bronze medal at the Rowing Nationals, where besides competing against battle hardened rowing schools like S. Thomas' and Royal they also had to contend with established clubs like Army and Navy.
AIS Sports Coordinator Angu Rajendran says the school is determined to progress in the sport and as a means to this end they have purchased two boats for their students to use freely. Mrs. Rajendran also expresses great confidence that the school will continue to achieve great things in a wide variety of sports, citing the school's sporting philosophy as the main catalyst for this future success. "At AIS we don't compel any of our students to do a sport but leave it for them to decide. This is because we want to make sports something that is fun to do, something which the students will enjoy doing and look forward to."