Stepping onto the stage to claim his runner-up trophy for the 'BATA- the Sunday Times Schoolboy Cricketer of the Year', Bhanuka Rajapaksa was effectively capping off what had been an enormously successful season. With one more year to go before he waves goodbye to school cricket, the young Royalist looks poised to make a serious push for a spot in our national ranks. At present he has the honour of having an official playing contract with Sri Lanka Cricket while still at school.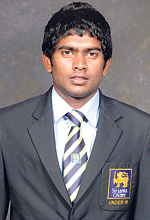 Bhanuka Rajapaksa
The prodigiously talented left handed batsman burst into Royal's first eleven as a flamboyant fourteen-year-old, cracking a century on debut against Rahula College. His batting, then as it is now, was characterized by an uninhibited style of play, constantly adding pressure on the bowlers with his aggression. He continued to replicate the dominance from his first match right up to the end of the season, finishing with a mighty tally of 852 runs.
From there he moved from strength to strength, rapidly accumulating runs as well as a steadily increasing audience curious about his enviable ability. His inclusion in the squad that traveled to New Zealand for the Under 19 World Cup provided him with an opportunity to showcase his great skill, a chance he was quick to pounce on.
Bhanuka finished the tournament as Sri Lanka's highest scorer, registering 253 runs, including a score of 80 in the quarterfinals against South Africa, which he rates as one of his best performances at the tournament.
"It rained during the first half of the match and conditions were really tough to bat through so scoring a half century was very satisfying," Bhanuka revealed. This however was not his most outstanding showing in an international Under 19 match. That came months before on a tour to Australia. During one of the series' one dayers, Bhanuka walloped a quick fire 154 runs, helping him to finish as the tour's highest run getter.
Away from the under 19 circuit he has also played for Sri Lanka's A team, scoring a half century in a practice game against South Africa. Taking into consideration the long list of productive international outings that Bhanuka has under his belt, there is little doubt over the potential he has to become a regular and reliable component of any future national side.
To achieve this eventual goal the youngster constantly ingrains an enormous amount of hard work into his already rigorous daily practice regimen. "From seven to nine every morning we (the under 19 team) work on fitness and then from 2 to 6 in the evening we have regular practice," Bhanuka reveals.
This is in fact a daunting routine, considering that there is the additional workload of attending his school's daily practice sessions, but Bhanuka is unfazed by this and understands that it is the only sure way to reach his final objective.
"My dream is to play for Sri Lanka and I want to continue to work until I fulfill this ambition," he passionately states. He acknowledges that the road to this chosen destination is dotted with numerous obstacles, but he is confident that together with his profound belief in his ability and the support of his family, he can comfortably scale all these challenging barriers.