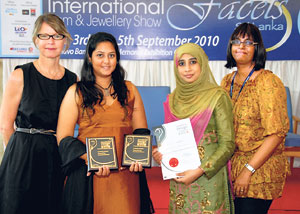 Mrs. Karen MacLeod, Principal of the AOD, Sathya Wimalasiri, Muna Rizwan and Yamini Balasubramanium.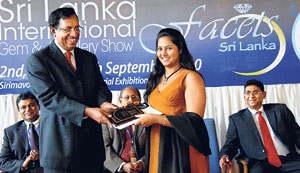 Harshini Wimalasiri being awarded by Minister of Environmental Affairs, Anura Priyadharshana Yapa.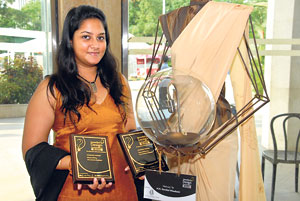 Harshini Wimalasiri with her awards and the special exhibition stand designed by AOD Interior Design Student Yamini Balasubramanium.
As Sri Lanka's post-war era brings in optimism for local and foreign investors along with a massive boost in the tourism industry, the local gem and jewellery business is undergoing a speedy expansion. To answer this growing demand for tastefully designed jewellery of international calibre, the Academy of Design (AOD) - Sri Lanka's premier educator in professional design brings forth a line-up of internationally qualified Jewellery Designers.
At the recently held Facets Sri Lanka 2010 Gem and Jewellery Show, two jewellery design students of the AOD won multiple awards from a number of award categories. Mihiri Devendra, the head of the Jewellery Design Programme at the campus said that competitions such as this give students the necessary confidence to become future leaders in the industry "It's healthy for students to understand about the competition in the professional world while they're still studying, and their education is fresh in their minds. It's wonderful to see students achieve recognition of this calibre, only half way through their programme."
Muna Rizwan emerged the runner-up among many contestants for the Coloured Pendant category while Harshini Wimalasiri won multiple awards and certifications in recognition of her work with diamond jewellery.
Harshini won awards for the Diamond Ring and Diamond Earring categories along with certifications for Diamond Bracelet and Diamond Pendant categories. "AOD was the beginning of my design education and it was the AOD that led me to this achievement.
The knowledge, the enthusiasm and the passion for designing were given to me by the awesome lecturers at the AOD and the exposure that I received from the campus was amazing and helped me take part in the competition. AOD is definitely a pillar of strength along my path in jewellery design" says Harshini.
AOD's jewellery design programme offers one of the most comprehensive curricula and internationally accepted qualifications available in Sri Lanka. The promising talent of the students and the superior education at the AOD is a combination that promises great prospects for the Gem and Jewellery industry of Sri Lanka.