The dawn of August 19, 2010 was an extremely decisive day for candidates worldwide who had sat for the Edexcel O/L, A/S and A Level examinations held in May/June 2010. However, it was a day that brought glory and honour to St. Nicholas' International College, Negombo.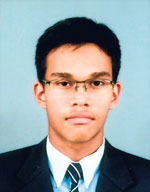 Shanaka Akash Sunethkumara - Best O/L results
The school which recently celebrated its 7th anniversary had produced outstanding results in the GCE O/L and A/S Level exams. In the GCE O/L Science stream, Master Akash Sunethkumara had obtained the best results with 7 A passes for all the 7 subjects that he sat for. He was followed by Master Tharindu Fernando who obtained 7 A's and 1 B for a total of 8 subjects. Master Anuradha Dias obtained the best results in the Commerce stream with 5 A passes and 2 B passes for a total of 7 subjects.
The GCE A/L level students too had done exceptionally well with Master Dilip Peiris obtaining the best results in the Science stream with 3 A passes for 3 subjects that consisted of 9 units. He received 9 A passes for all 9 units. In the Commerce Stream, the best results were obtained by Miss Dulani Fernando whose results consisted of 4 As.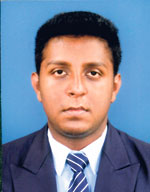 Dilip Peiris - Best A/L results
All high achievers were awarded with free education to continue their studies at St. Nicholas'. These marvellous feats could never have been performed without the guidance of an excellent staff, backed by the support of the Principal, Mr. K. Anton Perera. The atmosphere of strict discipline maintained by the Disciplinary Committee, too, has played an unforgettable role in this historic event.
Despite its short history, the school has made great developments and progress within the course of 7 years under the patronage of Archbishop Emeritus Most Rev. Dr. Oswald Gomis. The school is now equipped with a basketball court, a swimming pool and a playground, while tennis too is now the latest introduction to the school's list of sport s activities.
These excellent facilities provided by the college aid in moulding mind, body and spirit since the school upholds the belief of "a healthy mind in a healthy body". Furthermore, St. Nicholas' is the only Catholic international school in the area of Negombo and can proudly state that it is the only college where "the Learned Shine like Stars"! - Sanath Kumara Piyasena