Achievers proves itself as the leader by performing and producing high achievers at all levels of CIMA. The table below shows what Achievers is capable of. This amazing performance is purely attributed to Achievers' and probably Sri Lanka's best lecture panel. They have been largely responsible in bringing Achievers to its current position as the undisputed leader in CIMA education. During the four years since inception Achievers has attained a number of milestones.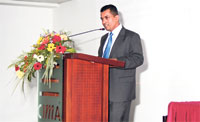 Mr. Bradley Emerson - Regional Director - South Asia & Middle East - CIMA, addressing the gathering at the Achievers Parents Day held at the CIMA Sri Lanka Division Auditorium.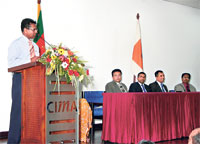 Mr. Sutheash Balasubramaniam - Chairman of CIMA Sri Lanka Divisional Board addressing the gathering at the Achievers Parents Day held at the CIMA Sri Lanka Division Auditorium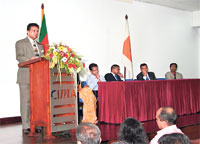 Mr. Ravi Edirisinghe - Chairman of Achievers, doing a presentation on "Leadership".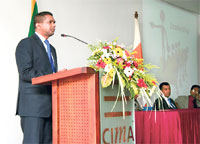 Mr. Faris Ismail - CEO of Achievers, doing a presentation on the topic "Why a Parents Day is needed for a Business School".
Its student population growth is unprecedented and unmatched, it has achieved the largest share of CIMA prize winners for the last three consecutive sessions and over 50 % of CIMA graduates passing out each year are from Achievers and the icing on the cake is that it all it produced 9 out of 11 CIMA prizes in the latest May 2010 examination.
Lecturing is a passion at Achievers which is extremely examination focused and strives continuously to achieve higher standards of quality in CIMA education. Achievers lecture panel is fully supported by a student development centre to cater to the personal needs of our students. Achievers' pass rates have consistently exceeded SriLankan averages. Customers' perception of Achievers is very favourable and this is clearly evidenced by the large number of high achievers from Ordinary and Advanced level examinations joining Achievers Lanka Business School
Our CIMA Foundation
Achievers takes great pains in personalizing its Foundation course to lay a solid foundation to students. This is yet another reason for the great success of Achievers at Managerial and Strategic levels. Our CIMA Foundation panel blends young talent with experience. We have young talented lecturers such as Azad, Mayooran and Shehan blending with our senior and experienced lecturers in the calibre of Ravi Edirisinghe and Rumy Sakkaf.
Our new brand of CIMA fast trackers
Our fast track segment, a new brand of CIMA students shows encouraging growth. This programme will save a whole six months for our students. Almost an entire batch of fast track students completed CIMA Foundation in just four and half months and registered for Managerial level in December 2009. This shows the level of commitment and dedication of Achievers team of lecturers.
There has been tremendous growth in the number of fast track students as current registration shows
Achievers CIMA Foundation is very versatile, flexible and quality focused. Achievers' CIMA Foundation is unique in that every student is given personal attention and goes through a process of quality validation through a series of mock exams. Students appreciate this form of assessment as they are able to perform under examination conditions and able to assess their own standards.
This format of assessment gives students complete confidence when they ultimately sit for the examination. Achievers held a very successful Parents' day which was packed to capacity. Current registrations for CIMA Foundation is very encouraging indeed with numbers indicating exponential growth and a clear trend is being observed as we see students who have obtained excellent AL and OL results joining Achievers.
Head Prefects of all leading schools have registered for the current session which speaks volumes of the level of confidence they have on Achievers.
During last three years Achievers has produced nine students who were among the Top 5 in the World. Do you want to be one of them? Join us and see the difference.