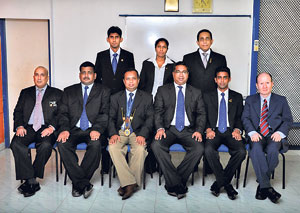 Seated from left: Jeremy Weerasinghe, Area Governor, A.C.S. Motha V.P. (Membership) Prasad Hewagama (V.P. Education), Rohan Somawansa (President) Kingsley Nagarajah (Mentor and Coach) Standing from left: Gayan Maldeniya (Secretary), Ms. Mihirine Fonseka (Sergeant-at-Arms) Nimal Weerasekera (Treasurer) Charitha Jayasinghe (V.P. Public Relations)
The Toastmasters Club of Sri Lanka Institute of Marketing was awarded the prestigious "Select Distinguish Club" accolade for the year 2009/2010. The Club was able to achieve this award within one year of its formation which could be considered an exceptional achievement.
The membership with the able support from all his members under the dynamic committee headed by its President Mr. Rohan Somawansa who is now the current President of the Sri-Lanka Institute of Marketing, was able to motivate and guide its members to complete their speech assignments on time set by Toastmasters International USA.
The sheer enthusiasm and commitment by its membership in successfully completing their allocated speech assignments based on projects and leadership programme manuals under the direction of Mr. Prasad Hewagama, Vice President Education, had contributed much to its success.
The club members were ably mentored and coached by Toastmaster Kingsley Nagarajah ACG,ALB.
Since the inauguration of the Club in June 2009, the club has functioned successfully gathering momentum and contributing immensely towards self development in the areas of Speaking, Communication, Presentation and Leadership Skills to its membership.
Thilanka Abeywardena, For any additional information please contact:
Ex-Co Member SLIM. 0773 143617.