Christmas has come again. But it is also the recession. Yet, Colombo is abuzz with excitement about where to fetch the best for the seasonal festivities. Forget the credit crunch. Christmas comes but once a year. Indulge.
Stake your cake! I mean Christmas cake. And do it fast for they are just out and selling, well, like hot cakes, for want of a better expression. Having shortlisted establishments that have proved their excellence in the fine art of pastry making I embarked upon a blind tasting of Christmas cakes. And here is what I thought takes the cake.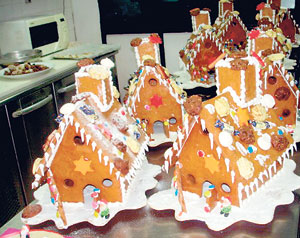 Cinnamon Lakeside's chef Jagath Wijesinghe's Christmas creations
Hilton Colombo does the most precious Christmas cake in town. It is the dearest, but only because it is the finest. Sri Lanka has its own unique version of Christmas cake. Indeed, perhaps it is a Sri Lankan invention for Christmas pudding is more the norm overseas. But methinks marzipan-coated, potently alcoholic fruit cake is an inspired creation. And Hilton Colombo's Pastry Chef Gerard Mendis who has extensive international exposure and has repeatedly won gold medals at prestigious international pastry competitions (including in Vienna), brings his own special twist to the local delicacy.
The presentation is exquisite. Abundant in nuts, dry fruit, spices and multifarious alcohols, yet uncluttered and unoverwhelming on the palate, it is rich, redolent, yet restrained, certainly and mercifully reined in on the sugar quotient. This cake is firm and fabulous in texture-- as for the fragrance,'tis the very essence of Christmas.
The Hilton Ginger Bread Hut meanwhile has manifested in all its splendour. Whilst you are shopping for Christmas cake you would be extremely foolish to miss out on some of the other delectables that beckon. For the kiddies, a cosmopolitan ginger bread Santa is re-incarnated in Sri Lankan, Indian, Italian, Greek and bien sur French avatars. Nice touch.
I thought the little chocolate brownie squares and marzipan squares are mouthfuls of heaven. The zesty, zingy mince pies are better than most I have had in London in some time. As for the chocolate chip cookies and nougat sticks, they are so fragile and fresh they crumble at your touch. With the utmost delicateness transfer them to your mouth. Given the products par excellence that the Hilton Colombo has put out this Christmas the hotel's French GM Monsieur Jerome Auvity will have little cause to pine for a Parisian Christmas.
Christmas comes just once a year. But for Pastry Chef Jagath Wijesinghe at Cinnamon Lakeside every day is Christmas day or at least a preparation for it. Yes, he started preparing his Christmas cake back in Easter. He created his own apple and grape "spice arrack" in which he left cardamom, nut meg, cinnamon, cloves and pepper corns to marinate for three months.
Then, the entire cake mixture hibernated for a further six months. "So your cake took nine months to make, like a baby?" I ask the Chef. "Exactly!" he says excitedly with infectious enthusiasm and proceeds to take me on a tour of the products he has conceived and created for this season. Incidentally, Chef Wijesinghe has been at the hotel or at least the building right from the beginning indeed, for over 18 years as the hotel has changed hands and names several times. Ever augmenting his prolific production capacity, this season he has outdone himself with a whopping 50 products. I loved the smooth and subtle Christmas cake but I also especially liked his Christmas pudding pulsating with dry fruit with a tangy twist of citrus. The absolute must-dos are the candy-peeled cookies and better still the sugar cookies- crisply, virtually sugar free.
Boom! It hit me. And I haven't quite recovered yet. I am talking about the Galadari Pastry Chef's Christmas cake. Heavy on the spices, this is Christmas cake at its headiest, most hedonistic best. A right royal treat of king cashews, queen sultanas, prince pumpkin preserve… studded with ruby cherries, emerald candied peel, amethyst ginger preserve and laced with golden bees' honey: this cake is like a jewellery casket the biting into which opens a treasure trove of tantalising tastes and textures. This is one helluva cake, a devilish delectation. I liked the lime rind that added punch. Get some of Pastry Chef Fernando's apple crunches too, whilst you're there.
Hilton Colombo Residence's talented young pastry Chef Withana who was awarded the Gold Excellence Award by the American Culinary Association offers a Christmas cake of a wonderfully moist and mellow touch. Grainy and gorgeous, it is almost between a Christmas cake and a Christmas pudding. Its liquid luxury is probably owed to the confluence of white and dark rum, brandy and whisky. No, you do not have to be over 18 to eat this cake… The dates which comprise the ingredients take the sting out of any alcoholic sharpness and make for beautiful balance. For the kiddies, there is no dearth of cookies and other goodies you can pick up at the Pit Stop. The chocolate shortbread biscuits are highly recommended.
If you are celebrating an alcohol-free Christmas then the teetotaller's Christmas cake can be ordered from the Cake Factory. Two sisters do home-made cakes without preservatives according to their home grown recipe. They also do a Yule log that oozes chocolate, the sort that goes down well at a children's Christmas party. I personally preferred the love cake. After all that Christmas cake, a lovely change.
Here's hoping my list of the best stands your test. Should you find anything better, I shall eat my words. Actually, all I can afford to eat these days. What with the credit crunch and all…