Ananda Ariyarathne began writing as a hobby while at school at Richmond College, Galle. His first Sinhala short story written in 1961 titled, "Niyangaya" (drought) was published in his college magazine.
But he did not pursue his writing for many years, instead choosing to become a teacher after graduating from the University of Ceylon, Peradeniya in 1966.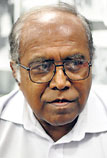 Ananda Ariyarathne
It was this choice of career that took him far away from the shores of Sri Lanka to serve in Ethiopia, which is the setting of one of his books, "Nine years at home away from home" – The Ethiopian Experience. Mr. Ariyarathne used his nearly decade-long stay in Ethiopia to write the book which was among the three books he launched at the recently concluded Colombo International Book Fair.
Mr. Ariyarathne, like many other Sri Lankans was anxious when he left for Ethiopia, not knowing what to expect there. But soon he found that there was more in common between Sri Lankans and Ethiopians than he had imagined, hospitality being one trait tht touched him in particular.
He tells the story of life in Ethiopia, woven from his own personal experiences. He dwells into the history of the country and its rich culture, alien to many of us here. His book dispels many of the misconceptions people have about Ethiopia, formed only by what they have witnessed via various foreign media.
Each chapter of the book starts off with an Ethiopian proverb which makes for interesting reading, like, "Don't spend the evening in a house where you cannot spend the night," and "Don't catch a leopard by the tail, but if you do, don't let it go."
His other book, "The Invincible", is a story based in rural Sri Lanka which dwells on some vital aspects of the rural economy and the growing demand for land. There are three love stories spanning two generations living in a war-stricken country and inter-communal relations between the Sinhalese and Tamils.
His third book, "Fire, tears and steel" is a translation of the Sinhala novel "Gindara, kandulu saha Vaane", by Sugathapala Mendis. This too is a love story set in the backdrop of the war.The books are published by Godage International Publishers (Pvt) Ltd.